Issue 1 • January 2018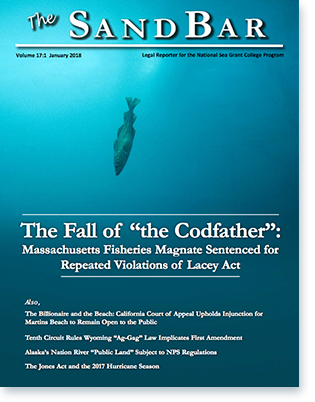 The Fall of "the Codfather": Massachusetts Fisheries Magnate Sentenced for Repeated Violations of Lacey Act
Also:
Tenth Circuit Rules Wyoming "Ag-Gag" Law Implicates First Amendment
Alaska's Nation River "Public Land" Subject to NPS Regulations
The Jones Act and the 2017 Hurricane Season
---
Issue 2 • April 2018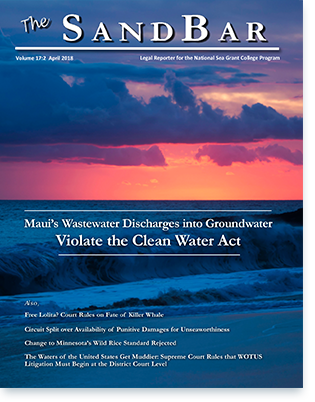 Maui's Wastewater Discharges into Groundwater Violate the Clean Water Act
Also:
Free Lolita? Court Rules on Fate of Killer Whale
Circuit Split over Availability of Punitive Damages for Unseaworthiness
Change to Minnesota's Wild Rice Standard Rejected
---
Issue 3 • July 2018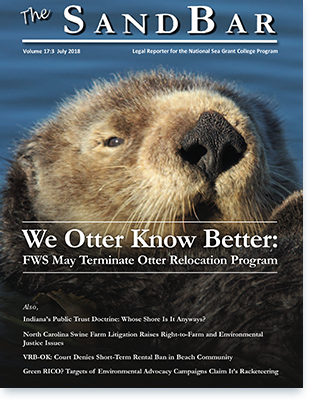 We Otter Know Better: FWS May Terminate Otter Relocation Program
Also:
Indiana's Public Trust Doctrine: Whose Shore Is It Anyways?
NC Swine Farm Litigation Raises Right-to-Farm and Environmental Justice Issues
VRB-OK: Court Denies Short-Term Rental Ban in Beach Community
---
Issue 4 • October 2018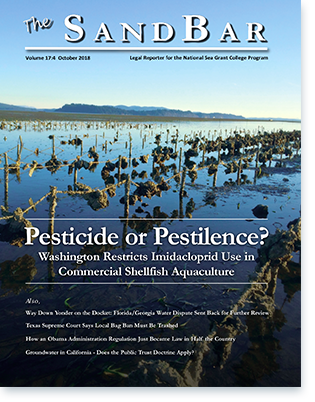 Pesticide or Pestilence? Washington Restricts Imidacloprid Use in Commercial Shellfish Aquaculture

Also:
Way Down Yonder on the Docket: FL/GA Water Dispute Sent Back for Further Review
Texas Supreme Court Says Local Bag Ban Must Be Trashed
How an Obama Administration Regulation Just Became Law in Half the Country
Groundwater in California - Does the Public Trust Doctrine Apply?



---
Sea Grant Law Reporter is a result of research sponsored in part by the National Oceanic and Atmospheric Administration, U.S. Department of Commerce, under Grant Number NA06OAR4170078, the Sea Grant Law Center, Mississippi Law Research Institute, and University of Mississippi Law Center. The U.S. Government and the Sea Grant College Program are authorized to produce and distribute reprints notwithstanding any copyright notation that may appear hereon. The views expressed herein are those of the authors and do not necessarily reflect the views of NOAA or any of its sub-agencies.