Issue 1 • April 2010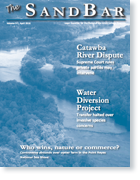 The Supreme Court Runs Through It
Also:
Nature v. Commerce
Ninth Circuit Rules Against Littoral Property Owners
A Heated Controversy
---
Issue 2 • July 2010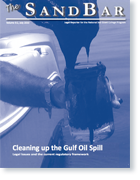 Cleaning up the Gulf Oil Spill
Also:
Stop the Beach Renourishment
State Law Preempted
Fishing for Rumors
---
Issue 3 • August 2010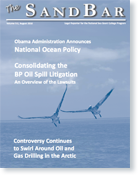 Obama Administration Announces National Ocean Policy
Also:
Frightened Fisherman Wins Right to Sue
Consolidating the BP Oil Spill Litigation
Controversy Continues to Swirl Around Oil and Gas Drilling in the Arctic
---
Issue 4 • October 2010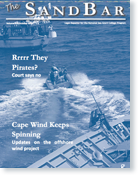 Cape Wind Keeps Spinning
Also:
Rrrrr They Pirates?
Cooling Water Intake Structures
Privately-Owned Wetlands and the ESA
---
Sea Grant Law Reporter is a result of research sponsored in part by the National Oceanic and Atmospheric Administration, U.S. Department of Commerce, under Grant Number NA06OAR4170078, the Sea Grant Law Center, Mississippi Law Research Institute, and University of Mississippi Law Center. The U.S. Government and the Sea Grant College Program are authorized to produce and distribute reprints notwithstanding any copyright notation that may appear hereon. The views expressed herein are those of the authors and do not necessarily reflect the views of NOAA or any of its sub-agencies.