Issue 1 • April 2009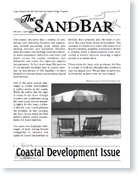 Court Invalidates New Jersey Public Access Rules
Also:
California Court Defers to State Agencies on Public Trust Question
Georgia Supreme Court Rules Act Does Not Apply
Town Board Grants Variance for Construction within Set Back
---
Issue 2 • July 2009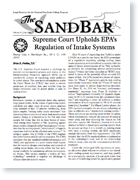 Supreme Court Upholds EPA's Regulation of Intake Systems
Also:
Ninth Circuit Affirms NMFS Policy on Hatchery v. Natural Salmon
DC Circuit Vacates Bush-era Oil and Gas Lease Expansion
Obama Announces National Ocean Policy
---
Issue 3 • October 2009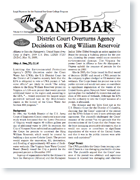 District Court Overturns Agency Decisions on King William Reservoir
Also:
Supreme Court Upholds Corps' Slurry Discharge
Supreme Court to Hear Judicial Takings Case
Hawaii Considers Increased Fines to Deter Coral Damage
---
Issue 4 • January 2010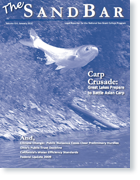 Climate Change: Public Nuisance Cases Clear Preliminary Hurdle
Also:
A Line In the Sand: Court Limits Ohio's Public Trust Doctrine
California's Water Efficiency Standards: North Circuit Orders Further Review
Carp Crusade: Great Lakes States Prepare to Battle Asian Carp
---
Sea Grant Law Reporter is a result of research sponsored in part by the National Oceanic and Atmospheric Administration, U.S. Department of Commerce, under Grant Number NA06OAR4170078, the Sea Grant Law Center, Mississippi Law Research Institute, and University of Mississippi Law Center. The U.S. Government and the Sea Grant College Program are authorized to produce and distribute reprints notwithstanding any copyright notation that may appear hereon. The views expressed herein are those of the authors and do not necessarily reflect the views of NOAA or any of its sub-agencies.