Issue 1 • January 2014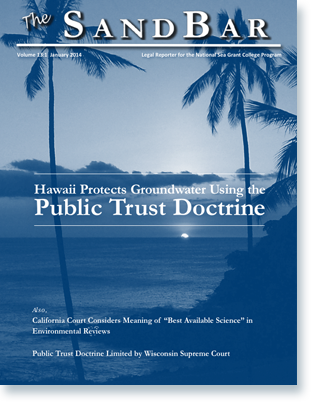 Hawaii Protects Groundwater Using the Public Trust Doctrine
Also:
CA Court Considers Meaning of "Best Available Science" in Environmental Reviews
Public Trust Doctrine Limited by Wisconsin Supreme Court
Agency Action and Judicial Review Under the Act to Prevent Pollution From Ships
---
Issue 2 • April 2014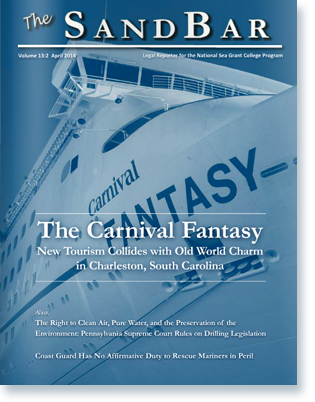 The Carnival Fantasy:
New Tourism Collides with Old World Charm in Charleston, South Carolina
Also:
The Right to Clean Air, Pure Water, and the Preservations of the Environment
Coast Guard Has No Affirmative Duty to Rescue Mariners in Peril
Battle Brewing over NC Oceanfront Property Owner's Dry Sand Beach Activities
---
Issue 3 • July 2014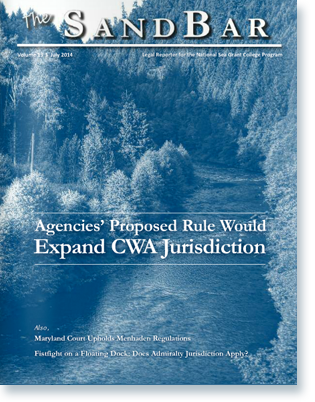 Agencies' Proposed Rule Would Expand CWA Jurisdiction
Also:
Maryland Court Upholds Menhaden Regulations
Fistfight on a Floating Dock: Does Admiralty Jurisdiction Apply?
Crashed Airplanes, Beached Submarines, and Sovereign Immunity
---
Issue 4 • October 2014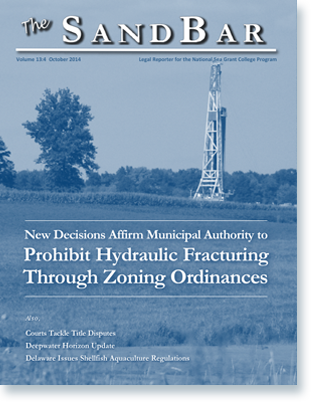 New Decisions Affirm Municipal Authority to Prohibit Hydraulic Fracturing Through Zoning Ordinances
Also:
Courts Tackle Title Disputes
Deepwater Horizon Update
Delaware Issues Shellfish Aquaculture Regulations
---
Sea Grant Law Reporter is a result of research sponsored in part by the National Oceanic and Atmospheric Administration, U.S. Department of Commerce, under Grant Number NA06OAR4170078, the Sea Grant Law Center, Mississippi Law Research Institute, and University of Mississippi Law Center. The U.S. Government and the Sea Grant College Program are authorized to produce and distribute reprints notwithstanding any copyright notation that may appear hereon. The views expressed herein are those of the authors and do not necessarily reflect the views of NOAA or any of its sub-agencies.