Issue 1 • January 2013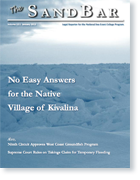 No Easy Answers for the Native Village of Kivalina
Also:
Ninth Circuit Approves West Coast
Transocean Escapes Total Ban from Operating in Brazil
Supreme Court Rules on Takings Claim for Temporary Flooding
---
Issue 2 • April 2013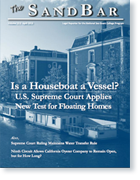 Is a Houseboat a Vessel?:
U.S. Supreme Court Applies New Test for Floating Homes
Also:
Supreme Court Ruling Maintains Water Transfer Rule
Ninth Circuit Allows California Oyster Company to Remain Open, but for How Long?
President Obama Creates the San Juan Islands National Monument
---
Issue 3 • July 2013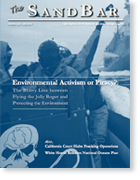 Environmental Activism or Piracy?:
The Blurry Line between Flying the Jolly Roger and Protecting the Environment
Also:
California Court Halts Fracking Operations
White House Releases National Oceans Plan
New York Trash Facility Set to Move Forward
---
Issue 4 • October 2013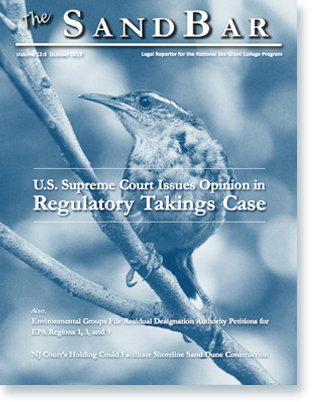 U.S. Supreme Court Issues Opinion in Regulatory Takings Case
Also:
Environmental Groups File Residual Designation Authority Petitions for EPA Regions 1, 3, and 9
NJ Court's Holding Could Facilitate Shoreline Sand Dune Construction
---
Sea Grant Law Reporter is a result of research sponsored in part by the National Oceanic and Atmospheric Administration, U.S. Department of Commerce, under Grant Number NA06OAR4170078, the Sea Grant Law Center, Mississippi Law Research Institute, and University of Mississippi Law Center. The U.S. Government and the Sea Grant College Program are authorized to produce and distribute reprints notwithstanding any copyright notation that may appear hereon. The views expressed herein are those of the authors and do not necessarily reflect the views of NOAA or any of its sub-agencies.