Issue 1 • January 2003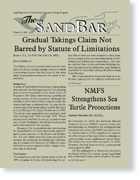 Gradual Takings Claim Not Barred by Statute of Limitations

Also:
NMFS Strengthens Sea Turtle Protections
Makah Whaling Plans Delayed Again
Public Comment Period Required in Pacific Coast Groundfish Fishery


---
Issue 2 • April 2003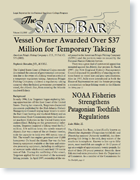 Vessel Owner Awarded Over $37 Million for Temporary Taking

Also:
NOAA Fisheries Strengthens Patagonian Toothfish Regulations
Washington State Declared Owner of Submerged Logs
National Park Service May Relocate Docks


---
Issue 3 • July 2003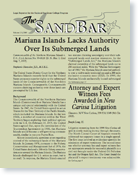 Mariana Islands Lacks Authority Over Its Submerged Lands
Also:
Attorney and Expert Witness Fees Awarded in
New Carissa
Litigation
Washington State Declared Owner of Submerged Logs
Takings Claim Reconsidered in Light of Recent Supreme Court Decision
---
Issue 4 • October 2003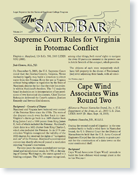 Supreme Court Rules for Virginia in Potomac Conflict
Also:
Cape Wind Associates Wins Round Two
Issuance of Longline Permits Triggers Consultation
Publication Notice: A Citizen's Guide to Conservation Easements
---
Sea Grant Law Reporter is a result of research sponsored in part by the National Oceanic and Atmospheric Administration, U.S. Department of Commerce, under Grant Number NA06OAR4170078, the Sea Grant Law Center, Mississippi Law Research Institute, and University of Mississippi Law Center. The U.S. Government and the Sea Grant College Program are authorized to produce and distribute reprints notwithstanding any copyright notation that may appear hereon. The views expressed herein are those of the authors and do not necessarily reflect the views of NOAA or any of its sub-agencies.