Issue 1 • January 2015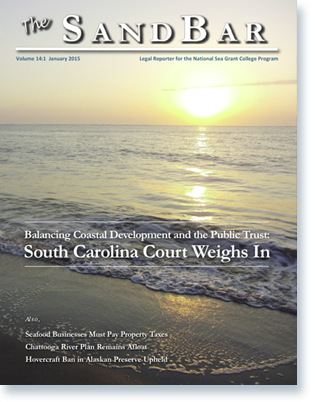 Balancing Coastal Development and the Public Trust:
South Carolina Court Weighs In
Also:
Seafood Businesses Must Pay Property Taxes
Chattooga River Plan Remains Afloat
Hovercraft Ban in Alaskan Preserve Upheld
---
Issue 2 • April 2015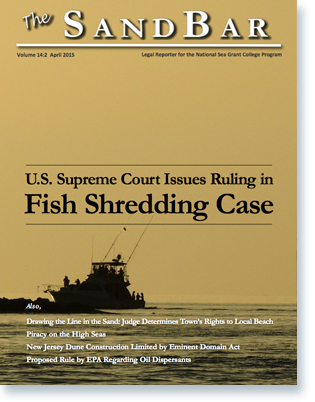 U.S. Supreme Court Issues Ruling in Fish Shredding Case
Also:
Drawing the Line in the Sand: Judge Determines Town's Rights to Local Beach
Piracy on the High Seas
New Jersey Dune Construction Limited by Eminent Domain Act
---
Issue 3 • July 2015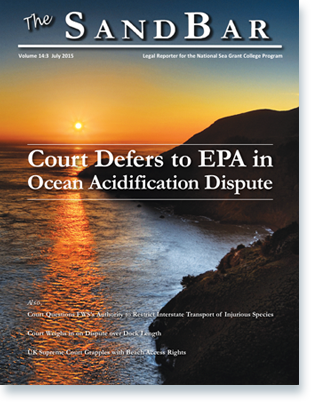 Court Defers to EPA in Ocean Acidification Dispute
Also:
Court Questions FWS's Authority to Restrict Interstate Transport of Injurious Species
Court Weighs in on Dispute over Dock Length
UK Supreme Court Grapples with Beach Access Rights
---
Issue 4 • October 2015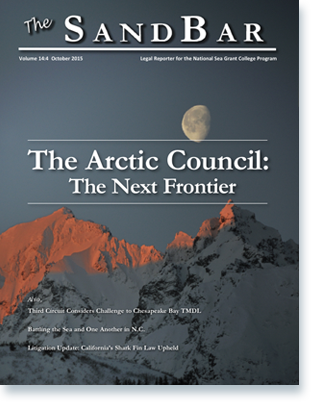 The Arctic Council: The Next Frontier
Also:
Third Circuit Considers Challenge to Chesapeake Bay TMDL
Battling the Sea and One Another in N.C.
Litigation Update: California's Shark Fin Law Upheld
---
Sea Grant Law Reporter is a result of research sponsored in part by the National Oceanic and Atmospheric Administration, U.S. Department of Commerce, under Grant Number NA06OAR4170078, the Sea Grant Law Center, Mississippi Law Research Institute, and University of Mississippi Law Center. The U.S. Government and the Sea Grant College Program are authorized to produce and distribute reprints notwithstanding any copyright notation that may appear hereon. The views expressed herein are those of the authors and do not necessarily reflect the views of NOAA or any of its sub-agencies.