Issue 1 • April 2006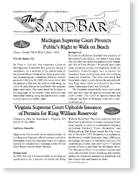 Bottled Water Dispute Boils Over

Also:
California Court Trashes Plan to Reduce Litter in the Los Angeles River
Knauss Program Accepts Three Law Students
First Circuit Finds CWA Jurisdiction over Cranberry Farm


---
Issue 2 • July 2006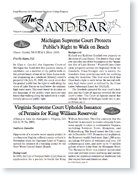 Supreme Court Fails to Clarify Limits of Corps' Weland Jurisdiction
Also:
Reflections of a Knauss Fellow: Thomas Street
Failure to Designate Critical Habitat Not a Continuing Violation
District Court Vacates Steller Sea Lion Research Permits
---
Issue 3 • October 2006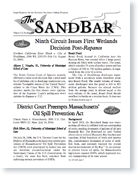 Ninth Circuit Issues First Wetlands Decision Post-Rapanos
Also:
District Court Preempts Massachusetts' Oil Spill Prevention Act
Fourth Circuit Demands Tougher Sentence for First-Time Offender
The Legal Viability of the 2001 UNESCO Underwater Cultural Heritage Convention
---
Issue 4 • January 2007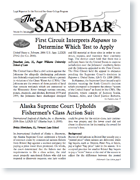 First Circuit Interprets Rapanos to Determine Which Test to Apply
Also:
Alaska Supreme Court Upholds Fishermen's Class Action Suit
Coast Guard Withdraws Live-Fire Training Proposal in Great Lakes
2006 Knauss Fellow Reflections
---
Sea Grant Law Reporter is a result of research sponsored in part by the National Oceanic and Atmospheric Administration, U.S. Department of Commerce, under Grant Number NA06OAR4170078, the Sea Grant Law Center, Mississippi Law Research Institute, and University of Mississippi Law Center. The U.S. Government and the Sea Grant College Program are authorized to produce and distribute reprints notwithstanding any copyright notation that may appear hereon. The views expressed herein are those of the authors and do not necessarily reflect the views of NOAA or any of its sub-agencies.