Issue 1 • April 2007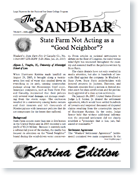 State Farm Not Acting as a "Good Neighbor"?
Also:
In the Wake of Katrina, Mississippi Approves Onshore Casinos
Federal Judge Rules Against State Farm in Katrina Case
Several Insurance Policies Provide Coverage from Levee-Breach Flooding
---
Issue 2 • July 2007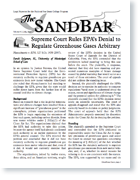 Supreme Court Rules EPA's Denial to Regulate
Also:
District Courts May Take Quickest Path to Dismissal
Pennsylvania Trial Court Preserves Public Access
"Dolphin Safe" Tuna Retains Its Meaning
---
Issue 3 • October 2007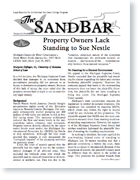 Property Owners Lack Standing to Sue Nestle
Also:
The Basics of Copyright Protection
City's Liability Waiver Invalid
Herring Net Pen Permit Upheld for Aquaculture Use
---
Issue 4 • January 2008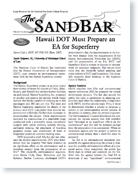 Hawaii DOT Must Prepare an EA for Superferry
Also:
Court Grants Injunction in Navy Sonar Case
Eleventh Circuit Uses "Significant Nexus" Test
Alaska Upholds Commercial Fishery Decision
---
Sea Grant Law Reporter is a result of research sponsored in part by the National Oceanic and Atmospheric Administration, U.S. Department of Commerce, under Grant Number NA06OAR4170078, the Sea Grant Law Center, Mississippi Law Research Institute, and University of Mississippi Law Center. The U.S. Government and the Sea Grant College Program are authorized to produce and distribute reprints notwithstanding any copyright notation that may appear hereon. The views expressed herein are those of the authors and do not necessarily reflect the views of NOAA or any of its sub-agencies.