Issue 1 • January 2011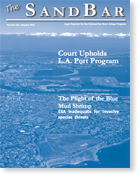 The Plight of the Blue Mud Shrimp
Also:
Court Upholds L.A. Port Program
NPDES Permit Required for Logging Road
Spoliation Sanction in Duluth Harbor
---
Issue 2 • April 2011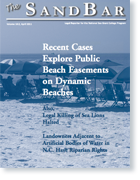 Recent Cases Explore Public Beach Easements on Dynamic Beaches
Also:
MI Supreme Court Restores Citizens' Right to Sue State for Environmental Harm
Legal Killing to Sea Lions Halted
Landowners Adjacent to Artificial Bodies of Water in NC have Riparian Rights
---
Issue 3 • July 2011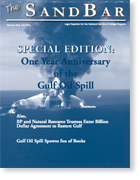 BP & Natural Resource Trustees Enter Billion Dollar Agreement to Restore Gulf
Also:
Increased Coordination for Increased Conservation
Gulf Oil Spill Reports Released
State Passes Bill Strengthening Oil Spill Laws
---
Issue 4 • October 2011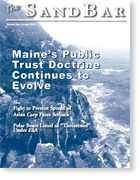 Maine's Public Trust Doctrine Continues to Evolve
Also:
Fight to Prevent Spread of Asian Carp Faces Setback
Polar Bears Listed as "Threatened" Under ESA
Court Denies Review of Nationwide Permit Regulating Ballast Water
---
Sea Grant Law Reporter is a result of research sponsored in part by the National Oceanic and Atmospheric Administration, U.S. Department of Commerce, under Grant Number NA06OAR4170078, the Sea Grant Law Center, Mississippi Law Research Institute, and University of Mississippi Law Center. The U.S. Government and the Sea Grant College Program are authorized to produce and distribute reprints notwithstanding any copyright notation that may appear hereon. The views expressed herein are those of the authors and do not necessarily reflect the views of NOAA or any of its sub-agencies.