Issue 1 • January 2019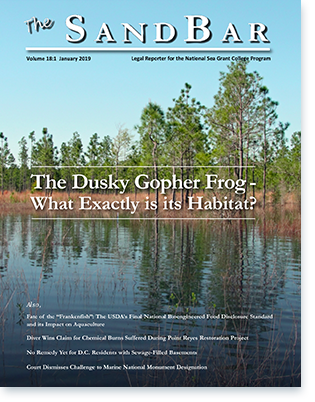 The Dusky Gopher Frog - What Exactly is its Habitat?
Also:
Fate of the "Frankenfish"
Diver Wins Claim for Chemical Burns Suffered During PT Reyes Restoration Project
No Remedy Yet for D.C. Residents with Sewage-Filled Basements
---
Issue 2 • April 2019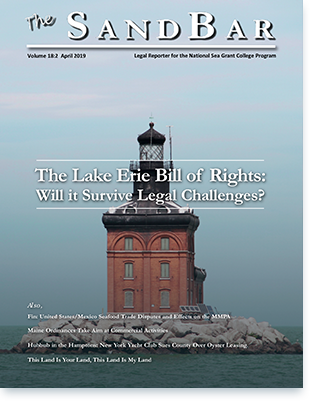 The Lake Erie Bill of Rights: Will it Survive Legal Challenges?
Also:
Fin: United States/Mexico Seafood Trade Disputes and Effects on the MMPA
Maine Ordinances Take Aim at Commercial Activities
Hubbub in the Hamptons: New York Yacht Club Sues County Over Oyster Leasing
This Land Is Your Land, This Land Is My Land
---
Issue 3 • July 2019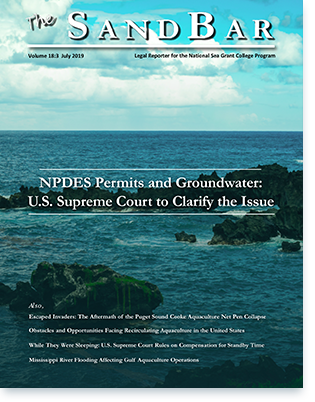 NPDES Permits and Groundwater: U.S. Supreme Court to Clarify the Issue
Also:
The Aftermath of the Puget Sound Cooke Aquaculture Net Pen Collapse
Obstacles and Opportunities Facing Recirculating Aquaculture in the United States
U.S. Supreme Court Rules on Compensation for Standby Time
Mississippi River Flooding Affecting Gulf Aquaculture Operations
---
Issue 4 • October 2019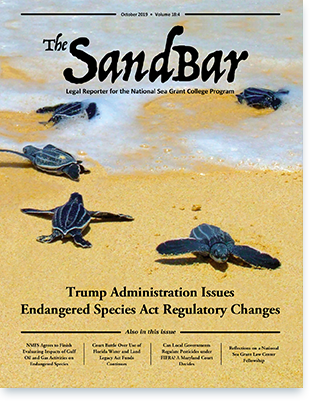 Trump Administration Issues Endangered Species Act Regulatory Changes

Also:
NMFS Agrees to Finish Evaluating Impacts of Gulf Activities on Endangered Species
Court Battle Over Use of Florida Water and Land Legacy Act Funds Continues
Can Local Governments Regulate Pesticides under FIFRA? A MD Court Decides
Reflections on a National Sea Grant Law Center Fellowship

---
Sea Grant Law Reporter is a result of research sponsored in part by the National Oceanic and Atmospheric Administration, U.S. Department of Commerce, under Grant Number NA06OAR4170078, the Sea Grant Law Center, Mississippi Law Research Institute, and University of Mississippi Law Center. The U.S. Government and the Sea Grant College Program are authorized to produce and distribute reprints notwithstanding any copyright notation that may appear hereon. The views expressed herein are those of the authors and do not necessarily reflect the views of NOAA or any of its sub-agencies.