Issue 1 • April 2008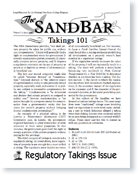 Takings 101
Also:
Court Finds Regulatory Taking of Developer's Property
Court Dismisses Commercial Fishing License Claims
Rolling Beach Easement not a Taking
---
Issue 2 • July 2008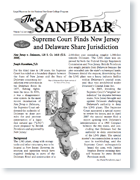 Supreme Court Finds New Jersey and Delaware Share Jurisdiction
Also:
California's Emissions Regulations Preempted
Court Vacates Monitoring and Enforcement Requirements
Water Wars Continue in Southeastern States
---
Issue 3 • October 2008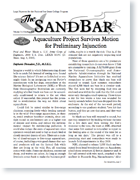 Aquaculture Research Project Survives Motion for Preliminary Injunction
Also:
Court Dismisses Family Members' Claims of Emotional Distress
U.S. Supreme Court Vacates Exxon Valdez Punitive Damages
Transfer of Riparian Rights Under Scrutiny in Wisconsin
---
Issue 4 • January 2009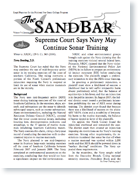 Supreme Court Says Navy May Continue Sonar Training
Also:
Minnesota Requires Permit for Ballast Water Discharges in Lake Superior
Florida's Beach Renourishment Act Upheld
EPA May Obtain Administrative Warrants Under TSCA
---
Sea Grant Law Reporter is a result of research sponsored in part by the National Oceanic and Atmospheric Administration, U.S. Department of Commerce, under Grant Number NA06OAR4170078, the Sea Grant Law Center, Mississippi Law Research Institute, and University of Mississippi Law Center. The U.S. Government and the Sea Grant College Program are authorized to produce and distribute reprints notwithstanding any copyright notation that may appear hereon. The views expressed herein are those of the authors and do not necessarily reflect the views of NOAA or any of its sub-agencies.