Issue 1 • January 2012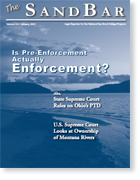 Is Pre-Enforcement Actually Enforcement?
Also:
State Supreme Court Rules on Ohio's PTD
U.S. Supreme Court Looks at Ownership of Montana Rivers
The Battle of Saugatuck Dunes Continues
---
Issue 2 • May 2012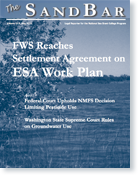 FWS Reaches Settlement Agreement on ESA Work Plan
Also:
Litigation Update: Supreme Court Rules on Ownership of Montana Rivers
Federal Court Upholds NMFS Decision Limiting Pesticide Use
Washington State Supreme Court Rules on Groundwater Use
---
Issue 3 • July 2012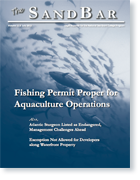 Fishing Permit Proper for Aquaculture Operations
Also:
Atlantic Sturgeon Listed as Endangered, Management Challenges Ahead
Exemption Not Allowed for Developers along Waterfront Property
Texas Supreme Court Weakens Rolling Easements Doctrine
---
Issue 4 • October 2012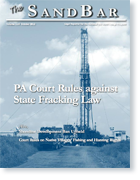 PA Court Rules against State Fracking Law
Also:
Shoreline Development Ban Upheld
Court Rules on Native Villages' Fishing and Hunting Rights
OSHA Reacts to SeaWorld Killer Whale Killing
---
Sea Grant Law Reporter is a result of research sponsored in part by the National Oceanic and Atmospheric Administration, U.S. Department of Commerce, under Grant Number NA06OAR4170078, the Sea Grant Law Center, Mississippi Law Research Institute, and University of Mississippi Law Center. The U.S. Government and the Sea Grant College Program are authorized to produce and distribute reprints notwithstanding any copyright notation that may appear hereon. The views expressed herein are those of the authors and do not necessarily reflect the views of NOAA or any of its sub-agencies.