Issue 1 • January 2016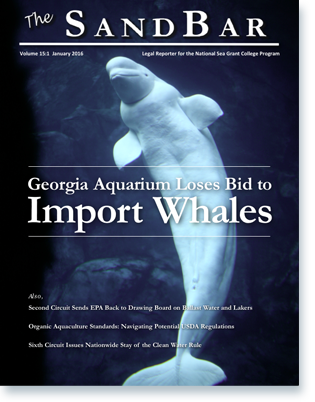 Georgia Aquarium Loses Bid to Import Whales
Also:
Second Circuit Sends EPA Back to Drawing Board on Ballast Water and Lakers
Organice Aquaculture Standards: Navigating Potential USDA Regulations
Sixth Circuit Issues Nationwide Stay of the Clean Water Rule
---
Issue 2 • April 2016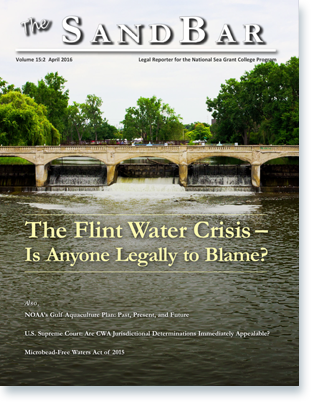 The Flint Water Crisis — Is Anyone Legally to Blame?
Also:
Litigation Update: N.C. Court Rules on Beach Case
NOAA's Gulf Aquaculture Plan: Past, Present, and Future
U.S. Supreme Court: Are CWA Jurisdictional Determinations Immediately Appealable?
---
Issue 3 • July 2016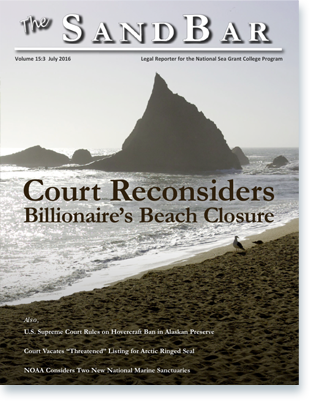 Court Reconsiders Billionaire's Beach Closure
Also:
U.S. Supreme Court Rules on Hovercraft Ban in Alaskan Preserve
Court Vacates "Threatened" Listing for Arctic Ringed Seal
NOAA Considers Two New National Marine Sanctuaries
---
Issue 4 • October 2016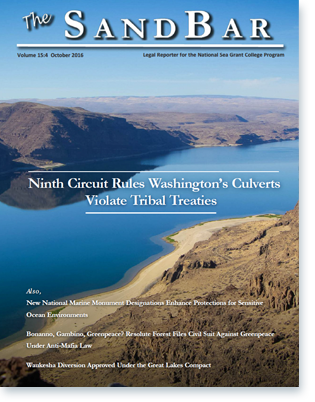 Ninth Circuit Rules Washington's Culverts Violate Tribal Treaties
Also:
Waukesha Diversion Approved Under the Great Lakes Compact
Mexico and the United States Continue to Spar over "Dolphin-Safe" Labeling
---
Sea Grant Law Reporter is a result of research sponsored in part by the National Oceanic and Atmospheric Administration, U.S. Department of Commerce, under Grant Number NA06OAR4170078, the Sea Grant Law Center, Mississippi Law Research Institute, and University of Mississippi Law Center. The U.S. Government and the Sea Grant College Program are authorized to produce and distribute reprints notwithstanding any copyright notation that may appear hereon. The views expressed herein are those of the authors and do not necessarily reflect the views of NOAA or any of its sub-agencies.