Issue 1 • January 2017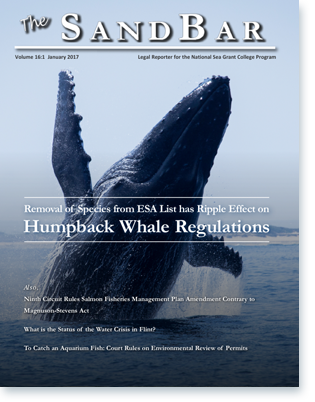 Removal of Species from ESA List has Ripple Effect on Humpback Whale Regulations
Also:
What is the Status of the Water Crisis in Flint?
Landowner Wants Last Word in Aquaculture Review
To Catch an Aquarium Fish: Court Rules on Environmental Review of Permits
---
Issue 2 • April 2017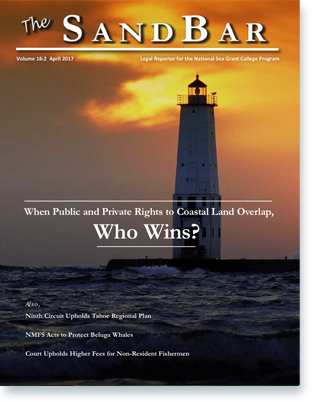 When Public and Private Rights to Coastal Land Overlap, Who Wins?
Also:
Ninth Circuit Upholds Tahoe Regional Plan
NMFS Acts to Protect Beluga Whales
Court Upholds Higher Fees for Non-Resident Fishermen
---
Issue 3 • July 2017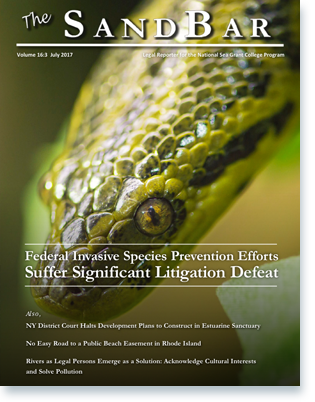 Federal Invasive Species Prevention Efforts Suffer Significant Litigation Defeat
Also:
NY District Court Halts Development Plans to Construct in Estuarine Sanctuary
No Easy Road to a Public Beach Easement in Rhode Island
Rivers as Legal Persons Emerge as a Solution: Acknowledge Cultural Interests and Solve Pollution
---
Issue 4 • October 2017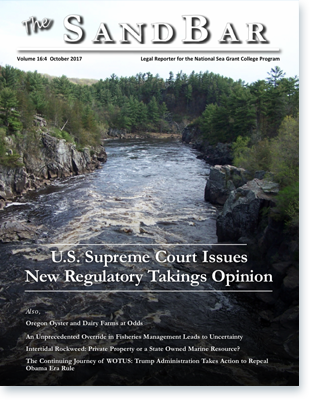 Ninth Circuit Rules Washington's Culverts Violate Tribal Treaties

Also:
Oregon Oyster and Dairy Farms at Odds
An Unprecedented Override in Fisheries Management Leads to Uncertainty
Intertidal Rockweed: Private Property or a State Owned Marine Resource?
The Continuing Journey of WOTUS: Trump Administration Takes Action to Repeal and Obama Era Rule



---
Sea Grant Law Reporter is a result of research sponsored in part by the National Oceanic and Atmospheric Administration, U.S. Department of Commerce, under Grant Number NA06OAR4170078, the Sea Grant Law Center, Mississippi Law Research Institute, and University of Mississippi Law Center. The U.S. Government and the Sea Grant College Program are authorized to produce and distribute reprints notwithstanding any copyright notation that may appear hereon. The views expressed herein are those of the authors and do not necessarily reflect the views of NOAA or any of its sub-agencies.