Issue 1 • January 2002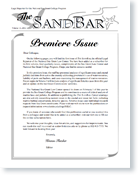 Supreme Court Rejects Lake Tahoe Landowners' Takings Claim
Also:
Supreme Court Upholds Immunity for Ports Authority
Rivers Polluted by Nonpoint Source Pollution Subject to TMDLs
EPA Logging Permits Violate Public Notice Requirement
---
Issue 2 • April 2002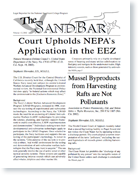 Court Upholds NEPA's Application in the EEZ

Also:
No EIS Necessary for Kohala Project
Court Rejects Rehearing on Banned Shrimp Case
Coast Guard Cannot Assert Salvage Liens for Mandatory Duties


---
Issue 3 • July 2002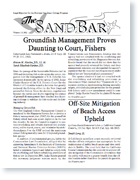 Groundfish Management Proves Daunting to Court, Fishers

Also:
Off-Site Mitigation of Beach Access Upheld
Ninth Circuit Denies Relief to Seattle Tideland Developers
Klamath River Basic Water Shortage Reaches Crisis


---
Issue 4 • October 2002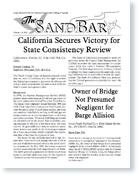 California Secures Victory for State Consistency Review

Also:
Owner of Bridge Not Presumed Negligent for Barge Allision
Aerial Spraying is Point Source Pollution
Remote Sensing: An Emerging Tool for Environmental Protection


---
Sea Grant Law Reporter is a result of research sponsored in part by the National Oceanic and Atmospheric Administration, U.S. Department of Commerce, under Grant Number NA06OAR4170078, the Sea Grant Law Center, Mississippi Law Research Institute, and University of Mississippi Law Center. The U.S. Government and the Sea Grant College Program are authorized to produce and distribute reprints notwithstanding any copyright notation that may appear hereon. The views expressed herein are those of the authors and do not necessarily reflect the views of NOAA or any of its sub-agencies.