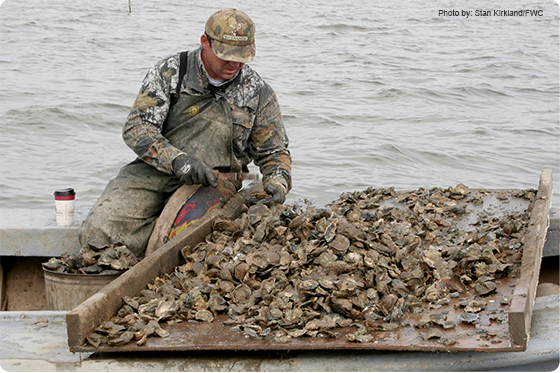 When Hurricane Michael made landfall on October 10, 2018, it claimed nearly forty lives across four states, and its aftermath continues to claim the livelihood of oystermen in Apalachicola, Florida. The town and bay of the same name are historically famed for their oysters, which once made up 90% of the wild caught oysters in Florida and 10% in the nation. Oil spill pollution, a drought, and a water use dispute decimated the native oysters in recent years, leading to a shift to aquaculture. Hurricane Michael may have been a "death blow" for the native oysters and is estimated to have destroyed 60-90% of the oyster crop, according to some of the thirty-eight bay area oyster farmers.
Florida's oyster industry was especially vulnerable to Hurricane Michael, because it is a relatively new aquaculture operation. Oyster farming requires systems of cages or bags, buoys, and anchors to hold the animals as they mature from "seeds" planted by the farmers, although each rig is not exactly alike. Because aquaculture has only become the norm in the Florida Panhandle in the last five years, neither farmers nor regulatory agencies have been able to establish a protocol for storm preparations. Some farmers chose to sink their rigs before the storm hit, while others attempted to attach them to stronger anchors. Every operation still experienced loss.
Hardship to the Apalachicola oyster industry has already been in the news this year. On June 28th, the Supreme Court issued a ruling on Florida's water dispute with Georgia. Florida v. Georgia, 138 S. Ct. 2502, 2519 (2018). The claim in Florida v. Georgia is that Georgia, as the upstream state, is taking more than its equitable share of water from the Apalachicola-Chattahoochee-Flint river basin. Among the damages Florida claims is the detriment to its wild oyster population. Without enough freshwater from the river basin, the Apalachicola Bay estuary has too high a salinity, and Florida claims that Georgia's inequitable water use during a drought in 2012 caused the wild oyster industry to be all but wiped out. A Special Master had recommended that the court dismiss the case, but, in a 5-4 decision, the Supreme Court set aside the recommendation and appointed a new Special Master to reconsider Florida's claims. Many Floridians consider this ruling to be a win for their state and expect that a rehearing will result in a water-use cap on Georgia. Read more about the Florida v. Georgia case in the October 2018 issue of SandBar.