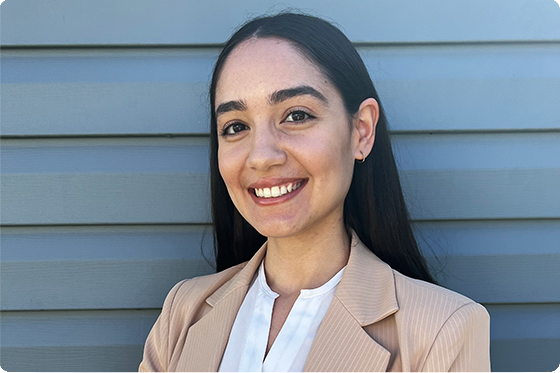 The National Sea Grant Law Center has selected Gabriela Martinez, a rising 2L at Pace University's Haub School of Law, for the 2023 Sea Grant Law Diversity Internship Program (SGLDIP). Over the summer, Gaby will gain experience in the field of ocean, coastal, and Great Lakes law, with an emphasis on issues facing underrepresented or indigenous communities. In addition to working with the NSGLC, Gaby will work with University of Southern California Sea Grant, the 2023 SGLDIP partner on a project aimed to address inequities in seafood access and consumption, as well as a project related to the regulation of seaweed production. Gaby answered a few questions for us below!
1. Where are you from?
I was born and spent my early childhood in Caguas, Puerto Rico. When the factory my father worked for moved to New Jersey in the early 2000s, we followed. We settled in a busy yet intimate town in northern New Jersey.
2. What was your first job?
The public schools in my county offered summer cleaning jobs to middle school students; scraping gum off the bottom of desks, organizing the gym supply closet, dusting the overhead fluorescent lights, etc. Not the most luxurious position, however, I still cherish and laugh about some of the memorable stories I shared with my friends during those Summers.
3. What made you consider a career in law?
My compassion toward animals and the environment has been a passion of mine for many years. When I learned about the environmentally devastating and inhumane practices associated with animal agriculture, I immediately knew that working towards sustainable solutions was my calling. Documentaries like An Inconvenient Truth and Earthlings were fundamental in guiding my eyes toward the legal realm. A career in law combined my interests in advocacy, climate change, and research, all whilst offering the potential to change outdated systems.
4. What aspect of your law fellowship are you most enthusiastic about this summer?
I am excited to learn about the complex systems of ocean law, specifically how greatly the law varies per state and what if any, global communal ocean laws affect us all. I am thrilled to dive into the research of sustainable technologies in kelp production, aquaculture, and the future of sea resources as food. Overall, I am really looking forward to exercising my legal research skills, especially solidifying my citation and writing organization skills.
5. Where's your favorite beach?
Asbury Park in New Jersey is my favorite local beach. My all-time favorite beach is Flamingo Beach in Culebra, Puerto Rico!
6. Do you have any hidden talents? What are they?
Although my kitchen skills are still a work in progress, I feel confident in my ability to whip up a couple of delicious and healthy whole-food plant-based dishes. Cooking vegan forces you to be creative and before I switched my lifestyle, the idea of making creamy sauces with raw cashews or "meat" out of portobello mushrooms seemed impossible. Some of my signature dishes include breaded cauliflower tacos and potato malai kofta.