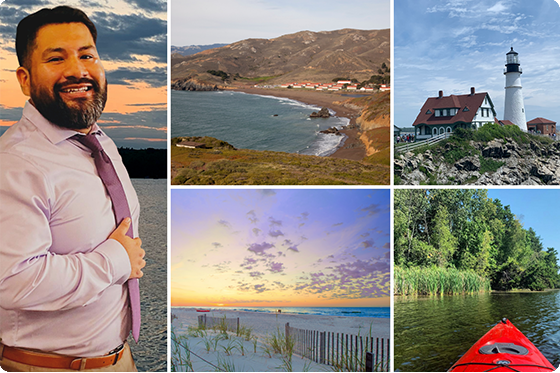 The National Sea Grant Law Center has selected Zachary Evans, a rising 2L at Albany Law School in New York, for the 2022 Sea Grant Law Diversity Internship Program (SGLDIP). Over the summer, Zach will gain experience in the field of ocean, coastal, and Great Lakes law, with an emphasis on issues facing underrepresented or indigenous communities. In addition to working with the NSGLC, Zach will work with Virginia Coastal Policy Center, the 2022 SGLDIP partner. Zach answered a few questions for us below!
1. Where are you from?
I was born in Santiago, Chile and grew up in Upstate New York. For the last nine years, I've been a proud resident of Washington, D.C. Having returned home to New York's Capitol Region for law school, I am excited to work remotely this summer with teams in Mississippi and Virginia.
2. What was your first job?
My first job, in high school, was maintaining a neighborhood park with a robust tree canopy. I discovered recently that the federal Land and Water Conservation Fund provided the support my hometown needed to create this walkable, green space for nearby families.
3. Who inspires you?
My parents inspire me. My mom's career in microbiology research and dad's work on digital projects to enhance educational services illustrate how science can help create a more equitable, healthier world. Their emphasis on being a good neighbor motivated me to be an advocate for others and to always approach problem-solving with kindness and resolve. Through this internship and my legal education, I hope to prepare myself for a public career that, in coordination with scientists and experts, helps communities become more resilient.
4. What made you consider a career in law?
As part of the digital engagement team at the National Wildlife Federation, I had the opportunity to work with many talented lawyers and meet environmental justice activists from around the country. In particular, I am drawn to proposal for science-supported, nature-based, and community-informed policy solutions aimed at mitigating flooding and sea-level rise. With my interest in policy sparked, I determined that attending law school would be a great way to further develop my writing and analysis skills.
5. What are you most excited about doing this summer?
Having just completed 1L year's doctrinal coursework, I am very excited to research and write about topics more closely aligned to my interests in climate resilience and environmental justice.
6. Where's your favorite beach? What is your favorite beach memory?
From the rocky beaches of Maine to the soft sands of South Carolina, I enjoy few things more than a breezy day with a good book by the water. One of my favorite beach memories was hiking along Rodeo Beach, just north of San Francisco, while attending the 2018 LGBTQ Outdoor Summit. In addition to the natural beauty of the landscape, the conference—which sought to expand access to the outdoors for members of the LGBTQ+ community—re-affirmed my passion for designing policy processes that welcome the perspectives of communities that have been historically excluded from policymaking.
7. What do you do in your free time?
Although free time is often in limited supply for law students, I enjoy carving out evenings to make weekly dinners with friends, watch indie movies, and visit nature preserves with my family and husband.
8. What are your favorite written or cinematic depictions of oceans and coasts?
One of my favorite movies is The Pelican Brief, which features stunning footage of the Louisiana coastline. I also enjoy revisiting Samuel Taylor Coleridge's Rime of the Ancient Mariner, Edwidge Danticat's Krik? Krak!, Jean Rhys' Wide Sargasso Sea, and Kate Chopin's The Awakening.