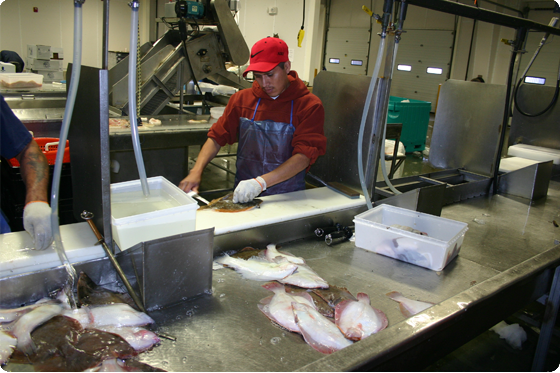 Outbreaks of COVID-19 at food processing facilities have led employees to file suit against large companies like Tyson and Smithfield for state law claims of public nuisance and breach of duty to provide a safe workplace. Of the 3.4 million food processing employees, about 250,000 work in seafood processing, though most of those workers are employed on land-based facilities. Workers at seafood processing facilities that operate offshore on vessels, however, may be entitled to additional remedies after getting sick if they qualify as Jones Act seamen.
The Jones Act provides certain seamen with compensation for lost wages, lost earning capacity, medical and healthcare expenses, and past and future pain and suffering. In order to qualify as a seaman for these purposes, a worker must have a connection to a vessel in navigation and contribute to the function of the vessel or the accomplishment of its mission. Chandris, Inc. v. Latsis, 515 U.S. 347, 368 (1995). While food processors are not the typical crew one associates with a vessel in navigation, the Jones Act has provided coverage for all types of workers who serve the mission of a vessel in navigation, including, for instance, hairdressers on a cruise ship. See, e.g., Mahramas v. Am. Export Isbrandtsen Lines, Inc., 475 F.2d 165 (2d Cir. 1973). Importantly, time in service is seen in totality of the employment locations; therefore, a seafood processing employee who rotates between three land-based facilities and one floating facility and gets injured aboard the floating facility is injured aboard will likely not be considered a seaman under the Jones Act.
As of August 21, 2020, data collected by the Food & Environment Reporting Network indicates that almost 300 food processing facilities have had confirmed cases of COVID-19. Over 50,000 meat-packing and food processing workers have tested positive, and 241 have died. Seafood processing workers have been similarly impacted. In May, forty employees at Lusamerica Foods Inc.'s inland seafood processing facility in Morgan Hill, CA, tested positive for the virus. Meanwhile in Alaska, seven processors aboard Icicle Seafood's floating facility, the Northern Victor, tested positive in June. Ninety-six employees of OBI Seafoods, which is also Alaska-based, tested positive in July, and thirty-seven more would go on to test positive in August.
Unlike an earlier lawsuit against Smithfield Foods for public nuisance, which was dismissed because the court deemed OSHA investigations to be the proper adjudication method for COVID-related concerns in the workplace, processing employees who work aboard processing vessels and qualify as seamen have additional rights under the Jones Act and general maritime law. While the lack of oversight by OSHA may hinder recovery against processing plants that did not receive official guidance (an issue that is being litigated separately), vessel owners and operators have a non-delegable duty of seaworthiness. In this context, seaworthiness means the vessel is reasonably fit for its purpose as a seafood processing facility. Seamen may recover for injuries that are substantially caused by the unseaworthiness of the vessel, a legal standard which imposes additional burdens on qualifying facilities and may allow eligible employees to get further in their COVID-related lawsuits. Whether these suits will ultimately achieve success, however, will boil down to questions of fact that depend on the specific workplace conditions and the plaintiff seaman's ability to rule out alternative causations.
While there is only limited guidance for many food processing facilities under state law, statutory violations related to the cause of the injury may also shift the nature of the employer liability. Violations of applicable state safety laws will create strict liability for unseaworthiness and limit the inquiry into the plaintiff's negligence. Otherwise, what constitutes negligence will be factual inquiries for state courts to decide.
The additional responsibilities for seafood processors who operate vessels in navigation reflect the additional dangers faced by offshore employees. These "essential workers" have remedies available against their employers under the Jones Act and general maritime law that land-based food processors cannot access. This distinction may prove especially important because Jones Act liabilities have thus far been exempt from Senate Republican proposals to limit COVID liability for businesses in the next stimulus bill. Questions of causation will differ when crews are isolated in remote locations, but no litigation has been filed from these outbreaks as of yet.