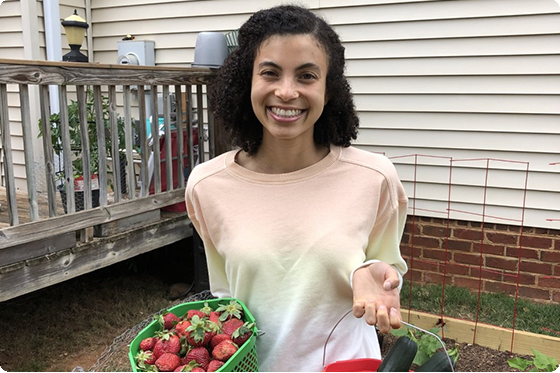 Mikayla Mangle, a rising 2L at Tulane Law School, was selected for the 2020 Sea Grant Law Diversity Internship Program (SGLDIP). This summer, Mikayla will work with the National Sea Grant Law Center to gain experience in the field of ocean, coastal, and Great Lakes law, with an emphasis on issues facing underrepresented or indigenous communities. During the internship, Mikayla will also work with the Virginia Coastal Policy Center on a project related to the Pamunkey Indian Tribe. We asked Mikayla a few questions to get to know her better.
1. Where are you from?
I was born and raised in Simpsonville, SC. However, I now live in New Orleans.
2. What was your first job?
My first job was as a hostess at the local IHOP. It was not glamourous, but I learned a lot!
3. Who inspires you?
My parents are my biggest inspirations. They both put themselves through college and worked very hard to get their degrees. They have taught me what hard work ethic and determination can get you, and I have always admired them for that.
4. What made you consider a career in law?
I have always been very passionate about social justice and advocacy. When I changed my major in college to Environmental Studies, I began learning about how environmental issues can disproportionately affect marginalized communities and that this is something many people do not talk about (or know about). This is when I decided I wanted to go to law school, so I can bring awareness about environmental justice issues and bring policy change to these marginalized communities.
5. How did COVID-19 impact your spring semester?
Due to the virus, I had to leave the city my school is located in to come stay with my parents. This proved to be more difficult than I expected. I was out of my element, and I had a harder time concentrating on studying and taking my exams. However, I do feel very privileged that I was able to spend these past couple of months with my family, and I believe I made it out of 1L year fairly well despite the unexpected turn of events.
6. What are you most excited about doing this summer?
I am most excited about actually getting experience with environmental law. In my first-year classes we never touched on environmental law, so I am very excited to actually get to read environmental cases and conduct legal research related to environmental issues.
7. Where's your favorite beach?
My favorite beach is Isle of Palms in Charleston, SC. Both my parents spent large portions of their lives in Charleston and both my dad and brother went to school at the College of Charleston. So, I have spent a good deal of my childhood in Charleston, and it will always have a special place in my heart.
8. What do you do in your free time?
In my free time I love to run. I have run 3 half marathons, and I cannot wait until the lockdown is over so I can sign for another race! Aside from running, I also love to bake. I went vegan about 4 years ago and the thing I missed the most was baked goods, so I started making my own vegan ones and now I love all things vegan baking. I also love reading southern and historical fiction novels.
9. Do you have any hidden talents? What are they?
I don't know if it's a talent, but I am double jointed in both my elbows so I can hyperextend both of my arms, which is actually pretty crazy looking.