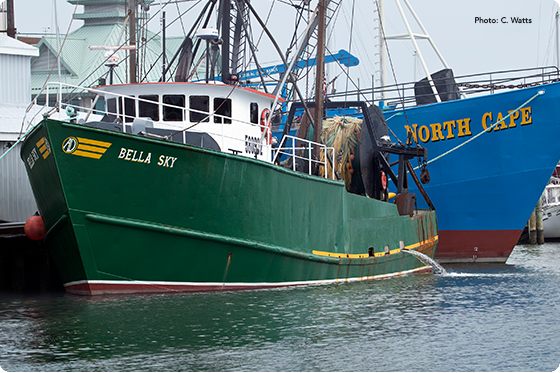 On June 11th, Representative Jared Golden of Maine and Representative Garret Graves of Louisiana proposed bipartisan legislation that would provide fishermen with additional funds from the COVID-19 disaster relief efforts. The proposal seeks to amend the Magnuson–Stevens Fishery Conservation and Management Act (MSA), the principle law governing marine fisheries in the United States. First passed in 1976, the MSA has only been amended twice. The first amendment occurred in 1996 to regulate overfishing; the Act was amended again in 2007 to establish annual catch limits and enhance international cooperation.
MSA §312(a) allows the Secretary of Commerce to declare a commercial fishery disaster based on 1) natural causes, 2) man-made causes beyond the control of the fishery managers to mitigate, such as those imposed to protect public health, and 3) undetermined causes. Previous uses of this declaration include Hurricanes Maria, Irma, and Harvey, as well as the BP Oil Spill. The newest amendment seeks to allow a fisheries disaster to be declared due to a pandemic, which would give fishing and lobstering communities direct relief during COVID-19.
The CARES Act distributed $300 million to fishermen, seafood dealers, and all other fishing industry workers. When divided over multiple fisheries, the distribution only stretches so far. For example, while the Maine fishing industry has received $20 million in COVID-19 relief, Ben Martens, executive director of the Maine Coast Fishermen's Association, says this doesn't begin to cover fisheries losses. Maine lobstermen bring in more than one billion dollars a year in revenue and $20 million is only a small fraction of the losses they are enduring. Louisiana obtained $14.6 million from CARES Act funds and are authorized to receive another $73 million in federal funds, but Gov. John Bel Edwards says more assistance is needed. In Florida, 14,000 workers are employed in the fisheries industry, bringing in more than $1.7 billion each year.
Nationwide, prices for fresh lobster and other profitable seafood have fallen substantially in the months since COVID-19 leveled exports overseas. Industry leaders say it is necessary to get relief for this pandemic and any future pandemic, and this bipartisan proposal may be the solution.