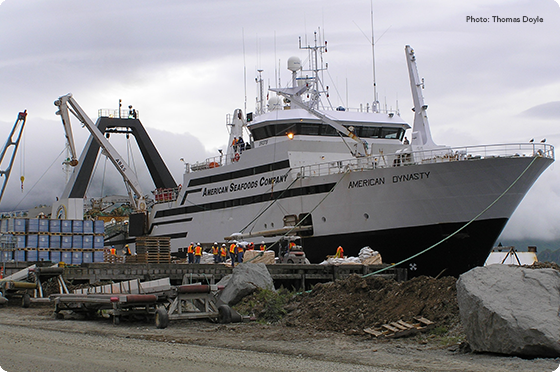 In early June, 94 of 126 crew members aboard the F/V American Dynasty tested positive for COVID-19. Despite precautions taken to avoid such an outbreak, the fishing industry and others who make their living working on boats are facing serious challenges responding to COVID-19. It's hard to imagine crew members being able to consistently stay six feet apart while hauling in nets, for example.
The Occupational Safety and Health Administration ("OSHA") regulates workplace safety under the Occupational Safety and Health Act of 1970 ("OSH Act"), which seeks to make all workplaces free from recognized hazards. Workplace, as defined by OSHA, includes mobile workplaces, such as vessels. Vessels include all watercraft or other artificial forms of water transportation as well as purposeful floating structures not designed for or used as transportation on water.
OSHA's authority, however, does not extend to workplaces regulated by another federal agency. OSHA's authority is preempted when another federal agency has exercised its statutory authority to regulate that particular working condition or specific subject matter of the regulation. The United States Coast Guard ("USCG") has issued standards for the health and safety of seamen on board inspected vessels (46 C.F.R. Chapter 1). Inspected vessels are primarily larger cargo and tank vessels, and passenger ships. A complete list of inspected vessels can be found in 46 U.S.C. § 3301, and definitions of specific vessels can be found in 46 U.S.C. § 2101. They are subjected to inspection by the USCG and are issued a Certificate of Inspection. Because the USCG has issued regulations setting forth comprehensive safety standards for inspected vessels, workplace safety on inspected vessels is wholly regulated by the USCG. Thus, OSHA does not have authority to enforce the OSH Act on inspected vessels. Nevertheless, OSHA may still exercise authority to protect workers against discrimination or retaliation by employers in response to workers exercising their OSH Act rights on inspected vessels.
The U.S. Coast Guard has issued some COVID-19 guidelines for USCG vessels and personnel, but the agency has not issued specific occupational safety guidance for inspected vessels. The CDC has issued guidance and recommendations of best practices for ships, which the USCG recommends all ship captains and owners review. Illnesses and deaths of persons (passengers and crew) onboard vessels must be reported to the USGC and Centers for Disease Control and Prevention (CDC) within 15 days prior to arrival at a U.S. port. USCG classifies interactions with persons exhibiting symptoms of COVID-19 or the flu as a hazardous condition, which requires immediate reporting to the USCG. As of March, 14, 2020, the CDC issued a No Sail Order to all cruise ships. Failure to comply with the guidance issued by the USCG can result in civil penalties, vessel detentions, and criminal liability. Delay in reporting can be characterized as a failure to comply.
OSHA retains authority over workplace safety on uninspected vessels, which includes most fishing, recreational, and towing vessels. The USCG regulates some marine safety concerns on uninspected vessels as well, such as life preserver requirements and conditions of boat engines and motors. These USCG regulations for uninspected vessels apply specifically to marine safety, but not workplace safety. Because workplace safety on uninspected vessels is not specifically addressed by the USCG, OSHA's authority is not preempted. This regulatory framework may be surprising to some. This balance and coordination of multiple agencies' authority applies to commercial fishing crews and has important implications both during periods of normal operations and under extraordinary circumstances, such as the recent public health crisis. Although OSHA has not yet issued any vessel-specific guidance related to COVID-19, commercial fishermen and vessel captains should take heed that this is liable to change as developments in the COVID-19 pandemic continue to unfold.