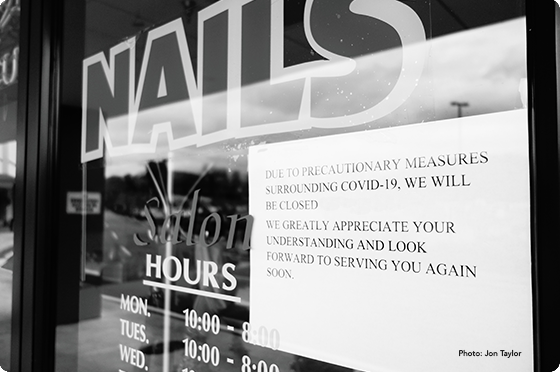 All types of businesses across the nation have incurred substantial losses in earnings due to COVID-19 shutdowns and are struggling to make it through these difficult times. Businesses that were unable to operate during the pandemic either from voluntary or mandatory shutdowns should consult their insurance policies to determine whether they have business interruption coverage. Business interruption insurance generally covers lost earnings incurred from an interruption of normal business operations caused by damage to the insured property. The purpose of the insurance policy is to put the policyholder back in the position it would have been had the interruption not occurred.
Business interruption claims require physical damage in order to receive coverage. Physical damage typically equates to structural destruction of the insured property from earthquakes, fires, hurricanes and other natural disasters, which usually require removal or physical repair to property. However, in some cases, courts have found physical damage from unseen particles, despite the fact that the covered property lacked any structural damage. For example, courts have required insurance companies to cover claims for damages from the presence of asbestos, E. Coli, ammonia and other unseen contaminants because such particles render properties uninhabitable and unfit for use. Accordingly, business interruption coverage is not dependent on actual, structural damage, but rather the requirement of physical damage may be satisfied from the mere presence of contaminants or pollutants.
There is a fair amount of uncertainty surrounding whether COVID-19 contamination constitutes "physical damage" to insured property. Although most businesses did not incur any structural damages, coronavirus contamination may be sufficient to make a claim since the virus particles render properties unfit for business. However, to successfully assert a claim, a business would likely need to provide evidence that COVID-19 was present in the insured property, which might be difficult or impossible in many cases. Therefore, it is possible that losses from shutdowns may not be covered depending on each businesses' unique circumstances. Eventually, courts will be called on to decide whether COVID-19 contamination constitutes damage.
Business owners impacted by COVID-19 should closely review their business interruption policy and consider filing a claim. It is likely that claims may initially be denied by insurance companies, but such filings are necessary to preserve future rights to challenge any denials in court.
Many business interruption policies, however, have a virus or pandemic exclusion clause. In response to the SARS outbreak in the mid-2000's, many insurance companies began adopting virus exclusions to eliminate business interruption coverage for damages from infectious diseases, epidemics, flu outbreaks and more. If a policy has an exclusion for viruses, pandemics, or infectious diseases, the policyholder may be unable to recover losses incurred during the COVID-19 interruption, regardless if the property sustained physical damage.
In sum, whether a business' insurance policy provides coverage for COVID-19 interruptions depends on its individual policy and exclusions. Because virus exclusions preclude coverage for losses related to pandemics and other epidemic outbreaks, businesses with this type of exclusion will not be able to recover loss earnings from coronavirus. Proving physical damage will be difficult for business owners; however, proof of COVID-19 contamination may be enough to make a claim. The ultimate decision regarding COVID-19 damages will be made by courts. Nevertheless, in the meantime, businesses should review their business interruption insurance policies and consider filing a claim in order to preserve a future right to challenge any denied claims in court.