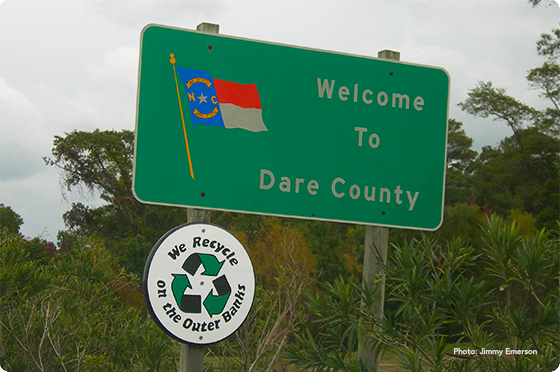 In the beginning of March, many state and local governments passed various executive orders to prevent the spread of COVID-19 within their communities. Dare County, North Carolina, a beach community in the Outer Banks, issued a State of Emergency declaration on March 16th that included a travel restriction. According to the declaration, non-resident property owners and visitors were prohibited from entering the county. Only residents living in the counties of Dare, Currituck, Hyde, and Tyrrell were permitted to enter Dare County. To enforce this travel restriction, county officials set up checkpoints and required proof of residency to gain entry into the county. Non-residents were turned away and not allowed to enter.
The restrictions imposed by the executive declaration drastically impacted non-resident homeowners and visitors. For example, out-of-town visitors that had beach vacation reservations during mid-March through May were unable to travel into the county to stay at their reserved lodgings. The North Carolina Real Estate Commission took the position that would-be visitors to the Outer Banks should be entitled to refunds for payments on rentals for the period when the county was shut down to visitors. Various complaints have been filed by vacationers who were not issued rental refunds. Non-resident homeowners, on the other hand, have lost money due to cancelled reservations and issuance of refunds. In addition, non-resident homeowners were unable to reach their properties to prepare it for the vacation rental season.
Six out-of-state, non-resident property owners sued Dare County claiming their constitutional rights had been violated because they were prohibited from accessing their beach houses. These plaintiffs alleged that their constitutional rights to travel, to engage in a common calling or occupation, and to obtain medical treatment as guaranteed by the Privileges and Immunities Clause have been violated. The plaintiffs owned property in Dare County and used their property as second homes and rental properties. As a result of the declaration, the plaintiffs claimed they were prohibited from preparing their properties for the spring and summer vacation rental season.
In the beginning of July, Dare County reached a settlement with the property owners over the lawsuit (for more information, click here). Under the terms of the settlement, non-resident property owners will have the same rights as full-time residents in case of a public health emergency, including the right to enter the county. In addition, the county also agreed to cover the attorney fees for the six property owners, which came to a total of $16,500.
Around the country, communities that experience an influx of seasonal visitors are working to find the right balance between public health and tourism. Hawaii, for example, has imposed a 14-day quarantine for all arriving travelers. Starting September 1, visitors can avoid the quarantine by showing proof of a negative test result. Myrtle Beach, on the other hand, reopened in May with very few restrictions and has recently become a hotspot for infections. At the beginning of July, the city issued an executive order requiring masks in densely packed public places. However, officials in Myrle Beach have reported at least 100 new cases in the county every day for the past few weeks. Coastal communities who are heavily dependent on tourism will have to make difficult decisions as they combat the recent spike of new coronavirus cases while trying to mend their struggling economies.