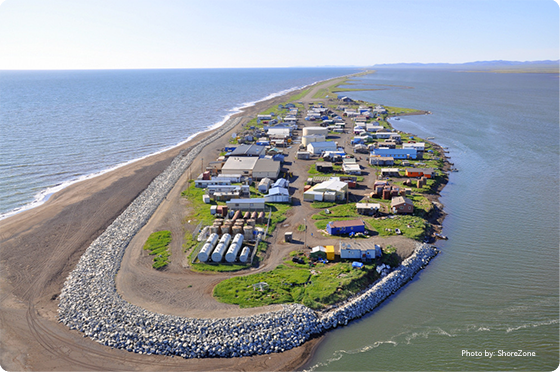 The Alaska Institute for Justice recently filed a complaint with the United Nations (UN) on behalf of five Tribal communities located in Alaska and Louisiana. The complaint alleges that the United States (US) government is responsible for human rights violations as a result of its failure to protect the Tribes from climate-caused land loss. Because of this land loss, each of the five Tribes face the threat of climate-forced displacement—an ongoing crisis that the UN Refugee Agency recognizes on its website. The complaint submitted to the UN represents a last-resort remedy as coastal erosion and rising sea levels inch closer towards displacing the Tribes entirely.
The four Tribes found in Louisiana are located on the southern Louisiana coast in the Terrebonne, Lafourche, and Plaquemines Parishes. Already, the four Louisiana Tribes have lost land due to coastal erosion, rising sea levels, and flooding from extreme weather events, like hurricanes. The complaint demonstrates the severity of that land loss by including aerial footage of land changes over the past several decades. For the Atakapa-Ishak Chawasha Tribe, located in the Grand Bayou area, a map from The Pontchartrain Institute for Environment Sciences at the University of New Orleans estimates the average rate of land loss at 191 acres per year.
The Native Village of Kivalina, which is found in Alaska, joined the four Louisiana Tribes in the complaint. The Kivalina people currently inhabit a small barrier reef island and have resided in the region for thousands of years. However, the Kivalina people have exclusively lived on the island since the early 1900s, when the United States government began requiring their children to attend a newly-built school there. Facing a constant problem with erosion, the Kivalina people look to the US government for help with relocation before their island is completely swallowed up by the Chukchi Sea.
The Tribes face difficulties in receiving help from the US government through the UN complaint process. One such difficulty is that the four Louisiana Tribes lack federal recognition. Fittingly, the complaint requests that the US government grant federal recognition to the four Louisiana Tribes so they can access federal resources to help solve their displacement problem. Another difficulty is that the United States and the UN currently have a problematic relationship. The United States withdrew from the UN Human Rights Council in 2018 and, as of last year, has stopped answering official requests from the UN special rapporteurs for investigations into human rights violations.
As the Tribes deal with potentially losing their ancestral homelands, they must also confront the possibility of losing their sacred burial sites, cultural traditions, and livelihoods. These Tribal communities might fail to remain intact without outside intervention and assistance with a coordinated relocation. With or without the help, time and tide wait for none. For these five Tribal communities, time is ticking, the waters are rising, and climate-forced displacement is nearing. The Tribes' complaint can be viewed here.