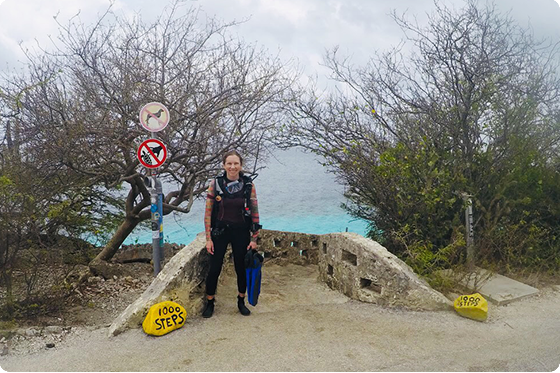 Each summer, the National Sea Grant Law Center hires a full-time research associate. This summer's Research Associate is Bryce Burgwyn, a rising 2L at Harvard Law School. We asked Bryce several questions to get to know her better.
1. Where are you from?
I grew up in Amherst, MA. Currently, I live just outside of Boston in Quincy, MA, with my husband Ned, our dog Lily, and our cat Poki.
2. What was your first job?
After graduating from the U.S. Coast Guard Academy, I served on active duty as an officer in the Coast Guard for eight years. During that time, I was stationed in Jacksonville, FL, Boston, MA, and Guam.
3. Who inspires you?
My sister, Aidan. She is a psychiatrist at the Medical University of South Carolina, and she has a remarkable sense of selfless service. She has shown me that through hard work and compassion, individual people can make measurable positive change in others' lives and the world around them.
4. What made you consider a career in law?
Many important professional and recreational aspects of my life revolve around the ocean, and I'm passionate about marine conservation and stewardship. I believe a career as a lawyer will position me to make a positive impact on marine resource management, environmental protection, and coastal resilience. I also love to learn, and I'm drawn to the intellectual challenge of solving complex legal and environmental problems.
5. What are you most excited about doing this summer?
I'm excited to gain hands-on experience working on current coastal and ocean law issues. I'm also excited to learn more about career opportunities in environmental law, and build mentorship relationships with the legal team here at NSGLC.
6. What's your favorite and/or least favorite thing about Oxford, Mississippi so far?
My favorite thing about Oxford is exploring a new part of the country I've never visited before. More specifically, the brioche at Bottletree Bakery, reading on the upstairs balcony at Square Books, and the fireflies that come out every evening. My least favorite thing about Oxford is that I only have two months here.
7. Where's your favorite beach?
This is a tough question! One of my many favorites is Haputo Beach, Guam. Haputo is a lovely, isolated pink sand beach, surrounded by cliffs and jungle. The beach is protected by a barrier reef, which creates a perfect nursery for juvenile blacktip reef sharks. They're harmless and very cute.
8. What do you do in your free time?
I love to travel, especially to explore new SCUBA dive sites. Close to home, I love to hike, ski, and take day trips around New England with my husband and our dog.
9. Do you have any hidden talents? What are they?
Baking. I especially enjoy experimenting with sourdough bread. I grew my own starter while I lived in Guam and smuggled it back with me on the plane. It's still thriving and leavening bread in Massachusetts!