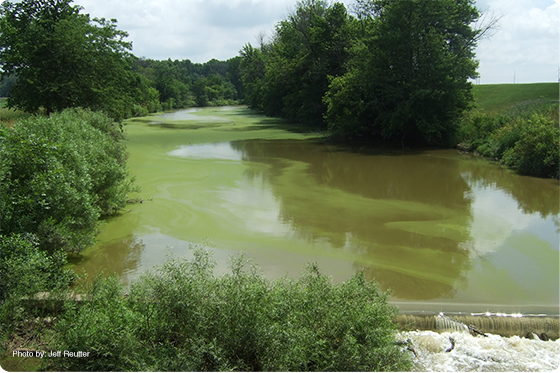 While nitrogen and phosphorus are nutrients that naturally occur in aquatic ecosystems, the presence of these nutrients in excessive quantities causes risks to human health and results in substantial economic and environmental harms. Nutrient pollution is primarily caused by several human activities, including municipal wastewater discharges, stormwater runoff, and agricultural discharges, such as fertilized cropland manure and runoff.
One of the ways nutrient pollution is detrimental to water quality is that the presence of large amounts of these nutrients stimulate rapid algal growth. While algal communities are a part of healthy ecosystems, when the population of algae rapidly increases, or "blooms," the toxins produced can significantly impact surrounding ecosystems. While much is still unknown about what causes an algal bloom to turn toxic, these events, known as harmful algal blooms (HABs), have many detrimental effects, including threatening human and animal health.
HABs have numerous negative health effects. Just coming into contact with contaminated water could cause skin rashes or burns. HABs are also poisonous if consumed. They can cause diarrhea, vomiting, nausea, numbness, and dizziness. Some health effects can be more severe. For instance, two cyanotoxins, microcystins and cylindrospermospin, can cause liver and kidney toxicity, respectively. Children, the elderly, people with compromised liver function and pets are especially vulnerable to the toxins present in HABs.
2018 was a particularly bad year for HABs. In May 2018, the city of Salem, Oregon, which obtains its drinking water from Detroit Lake, found dangerous levels of cyanotoxins in its water supply. The result was a "do not drink" water advisory that lasted for weeks, and the Oregon Health Authority issued a temporary rule requiring certain larger drinking water systems that use surface water to regularly test for cyanotoxins. In the South, Florida experienced its worst HAB in decades, as beach closures and fish kills plagued the state's coasts. The red tide lasted for months, prompting the state to declare a state of emergency.
As a result, Congress passed bipartisan legislation to combat HABSs, which President Trump signed earlier this month. Congress authorized appropriations of $20,500,000 for each year from 2019-2023 for the legislation. In the bill, Congress mandated that a scientific assessment of HABs in both fresh and marine waters be done every 5 years. The bill also allows the federal government to provide funding for hypoxia or HAB events "of national significance," which the law defines as an "event that has had or will likely have a significant detrimental environmental, economic, subsistence use, or public health impact on an affected State." However, the federal funding can only cover half of the costs to mitigate and assess the hypoxia or HAB of national significance.
The law also lists factors to determine if the event is of national significance. These factors include considering the HAB or hypoxia's:
Toxicity or severity;
Potential for spreading;
Economic impact;
Size compared to regularly occurring HABs or hypoxia;
Geographic scope, including whether it will affect multiple towns or states or cross international borders.
The full text of the recent legislation can be found here.
The recent legislation updated the 1998 Harmful Algal Bloom and Hypoxia Research and Control Act (HABHRCA). Complementing this law are 2015 Amendments to the Safe Drinking Water Act that requires the EPA to develop a strategic plan targeted at managing the risks of algal toxins in drinking water supplies. In addition, in 2015 the EPA released Health Advisories for microcystins and cylindrospermospin, and in December 2016, the agency released an Unregulated Contaminant Monitoring Rule for 30 contaminants, including 10 Cyanotoxins.
For more information on these previous regulatory actions, see our Fact Sheet on HABs and Drinking Water and our Fact Sheet on HABs and Water Quality.