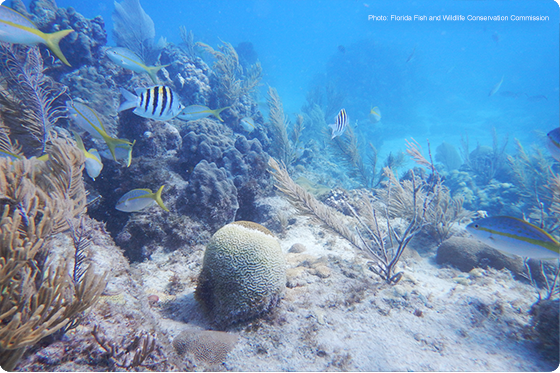 This week the City Commission of Key West voted 6-1 to ban the sale of sunscreens containing chemicals that could harm coral reefs. The banned chemicals are oxybenzone and octinoxate, which can damage reefs by contributing to coral bleaching and death. Key West's action follows legislation passed by the state of Hawaii last year which prohibits the sale of the same chemicals.
Why protect coral reefs?
Florida's coral reef system is the world's third largest reef system, containing over 1,400 plant and 500 fish species. Coral reefs are valuable ecosystems. They provide food, shelter, and breeding sites for numerous plants and animals, including economically important species like snapper, grouper, and the spiny lobster. Coral reefs also provide tourism revenue for activities like glass bottom boat trips, snorkeling, and fishing. NOAA estimates the coral reefs in Southeastern Florida have an asset value of $8.5 billion and provide over 70,400 full and part-time jobs.
Coral reefs also provide another vital function. Have you ever wondered why the water is so calm around Key West and the other Florida Keys? Coral reefs act as a natural barrier for ecosystems, small islands, and coastal sites. The reefs are breakwaters that minimize wave impacts, helping to protect the Keys from storms like hurricanes.
However, the world's coral reefs are in danger. The reefs are sensitive to temperature and salinity changes, so heavy rain events or even slight increases in water temperatures can harm the reefs. Stressed reefs will not grow, so increases in pollution and run-off, as well as overfishing, can harm the reefs. In addition, rising ocean temperatures can cause coral bleaching. Finally, ocean acidification is negatively impacting coral reefs. As carbon dioxide emissions rise, the oceans serve as a carbon sink. While this takes carbon dioxide out of the atmosphere, it also causes the oceans to become more acidic. It is harder for corals to build thick skeletons in such environments, making them vulnerable to breaking.
Why Ban Sunscreen?
While the threats to coral reefs are numerous, the use of sunscreen is a human behavior that can be influenced by state and local policy. Because reefs are huge tourist attractions, the National Park Service (NPS) estimates that 4,000 to 6,000 tons of sunscreen enter coral reefs each year. Prohibiting the sale of sunscreen will reduce their availability and use, thereby reducing the amount of harmful chemicals in the environment which will help to protect reefs.
The Key West ban will go into effect on January 1, 2021, the same effective date as the Hawaii ban. The ban applies to the sale of sunscreens containing oxybenzone and octinoxate, but there is an exemption in the ban for people with medical prescriptions for sunscreens with these chemicals. Under the ban, the first offense will result in a warning, with a second offense resulting in a still to be determined fine.
Interested in Cutting Down Your Environmental Impact?
To help reduce the amount of sunscreens getting into our waterways, the NPS recommends applying sunscreen before you are about to enter the water, as well as wearing sunglasses, long sleeve swim shirts or rash guards, and hats to lessen your exposure to the sun when in the water. More information on the NPS's recommendations for when you are visiting coral reefs can be found here.
In addition, Hawaii has published a list of 15 reef friendly sunscreens.