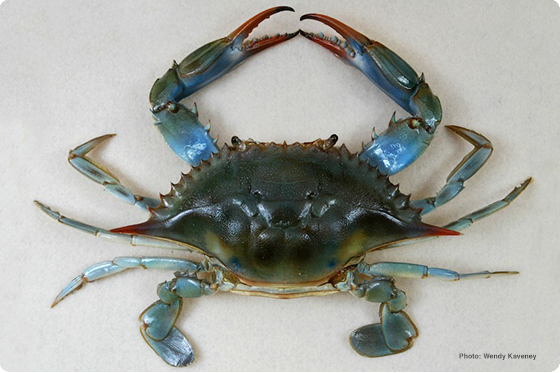 Recently, two seafood processors have been charged with mislabeling hundreds of thousands of pounds of Atlantic blue crab. The individuals caught in the fraud cite a sharp decline of Atlantic blue crab harvests beginning in 2010 for their decision to label crabmeat from Asia and South America as "Product of USA." The cases are part of an effort by several federal and state agencies, including NOAA's Office of Law Enforcement, the FDA, and the Department of Justice, to stop the false labeling of crabmeat.
In Virginia, seafood processors were charged with mislabeling 183 tons of foreign crabmeat as Atlantic Blue crab. James Casey, President of Casey Seafood, Inc., was convicted in January for his role in the scheme, receiving a 48-month prison sentence. In July, his son Michael Casey, vice president of the company, pled guilty to conspiring to perpetuate the fraud. Michael Casey stated that employees were instructed to repackage foreign crabmeat into Casey Seafood containers marked "Product of USA." According to Casey, some of the repackaged crabmeat was "distressed" due to upcoming or passed "best used by" dates. Employees "reconditioned" the distressed crabmeat by re-pasteurizing it.
The owner of Capt. Neill's Seafood Inc. in North Carolina, Phillip Carawan, pled guilty on August 13th for mislabeling nearly 200,000 pounds of crabmeat worth more than $4 million in the retail market. Carawan also directed employees to repackage the foreign crabmeat into containers with "Product of USA" labels. Under the plea agreement, Carawan and Capt. Neill's will make restitution to those who purchased the company's jumbo crabmeat between 2012 and June 16, 2015. For more information on seeking restitution, please visit Captain Neill's Seafood Victim Information Page.
Seafood fraud may implicate several state and federal laws, with the Lacey Act as the primary enforcement tool. The Lacey Act prohibits mislabeling fish sold in interstate or foreign commerce and provides civil and criminal penalties for those who do so. 16 U.S.C. §§ 3371 et seq. Those who knowingly violate the Lacey Act face maximum penalties of up to five years in prison and fines up to $250,000 for individuals and $500,000 for organizations. They may face civil penalties up to $10,000. Those convicted under the Lacey Act may be forced to forfeit vehicles, aircraft, vessels, or other equipment used to commit the crime. Sentencing will take place in November for Michael P. Casey and in January 2020 for Carawan.