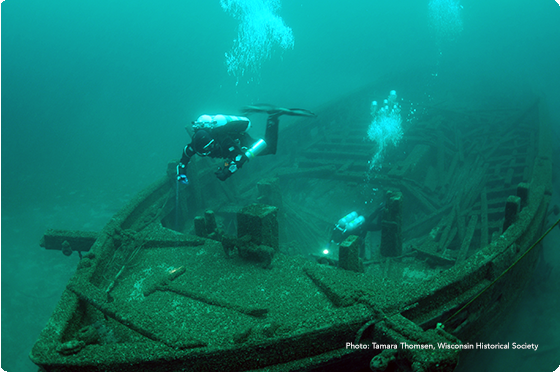 In late June 2021, the National Oceanic and Atmospheric Administration (NOAA) designated Wisconsin Shipwreck Coast National Marine Sanctuary (WSCNMS or Sanctuary) in the fresh, cold waters of Lake Michigan. Wisconsin Shipwreck Coast National Marine Sanctuary Designation; Final Regulations, 86 Fed. Reg. 32,737 (to be codified at 15 C.F.R pt. 922). Following a review by Congress and the governor of Wisconsin, the designation will become effective in the first weeks of August 2021, at which time NOAA will publish an announcement in the Federal Register. It is set to become the fifteenth national sanctuary and only the second in freshwater.
Authorized by the National Marine Sanctuaries Act, the Secretary of Commerce designates and protects sanctuaries of special significance for many reasons, including for their conservation, recreational, historical, and educational qualities. The National Marine Sanctuaries Act aims to protect a sanctuary's biological and cultural resources such as historic shipwrecks and archaeological sites. The Secretary has delegated sanctuary management to NOAA. The Wisconsin Shipwreck Coast NMS, which is located in state waters adjacent to Ozaukee, Sheboygan, Manitowoc, and Kewaunee counties, will be co-managed by the State of Wisconsin and NOAA.
"The new sanctuary brings well deserved focus to the history and resources of this part of the Great Lakes. I am looking forward to new opportunities to work with another NOAA group on future education and outreach programs," said Titus Seilheimer, a Wisconsin Sea Grant outreach specialist based in Manitowoc. For more than seven years, Seilheimer has coordinated sanctuary siting efforts with community leaders.
Encompassing more than 22,000 square miles, Lake Michigan is the second largest of the five Great Lakes. The lake's water, and its fresh, cold temperatures are credited for playing a significant role in preserving thirty-six known shipwrecks and approximately fifty-nine suspected shipwrecks with exceptional historical, archaeological, and recreational artifacts. The Sanctuary has partnered with other groups to create web-accessible detailed maps of the lakebed, with potential for discovery of other wrecks. The documented ships wrecked within the 962 square miles of waters and submerged land of the WSCNMS, date back to as early as the 1800s. They represent a part of history during the nineteenth and twentieth centuries, when vessels of the like sailed and steamed west throughout Lake Michigan carrying goods, raw materials, and people.
One of the more notable wrecks in the Sanctuary lies 165 feet below the surface. Sitting fully intact and upright on the lakebed is the Walter B. Allen, a 136-foot long boxy-hulled "canaller," which sailed from 1866-1880. Walter B. Allen is a wooden schooner that was used to transport grain and coal between New York and Chicago. Historically, canallers, like the Walter B. Allen, were constructed specifically to fit perfectly through the Welland Canal Locks and are unique to the Great Lakes.
The preservation of the wrecks within the Sanctuary extends beyond just the ships, as even the cargo remains intact. Among these preserved artifacts are locally produced goods, Christmas trees, general merchandise, a submerged aircraft, and even cars, including 264 Nash automobiles from 1929. Without the designation, the artifacts could face potential loss and damage by anchors from dive boats, entanglement of fishing gear, poorly attached mooring lines and the moving of, theft, or looting of the sunken artifacts. There is also a fear that new invasive species could be introduced to the lake waters. Wisconsin Shipwreck Coast National Marine Sanctuary Designation; Final Regulations, 86 Fed. Reg. at 32,738.
The designation plans for the Sanctuary are geared toward ensuring that it not only continues to exist, but also engages the community. For instance, the Sanctuary is expected to boost the local economy by attracting 70,000 tourists from around the region, nation, and globe each year and bringing in an estimated $10 million.
Additionally, in response to community concerns, NOAA will establish a Sanctuary Advisory Council comprising a diverse group of community leaders to provide advice on management and protection. With an incredible and rich maritime story, the Sanctuary will provide local communities with a platform for heritage tourism as they educate and organize around an underwater museum.
Following the designation, a mooring program is being instituted to create a balance between public access and resource protection. This is expected to take two years and at that time a prohibition on anchoring into shipwreck sites goes into effect.
After several years of relying on state laws and Lake Michigan's fresh cold waters as protection, the artifacts that lay on the lakebed will now enjoy more collaborative protections to help them survive for posterity. With history buffs and adventure seekers alike soon able to safely participate in regulated exploration and discoveries within her waters, the future of the Wisconsin Shipwreck Coast National Marine Sanctuary and all that she has to discover is bright.