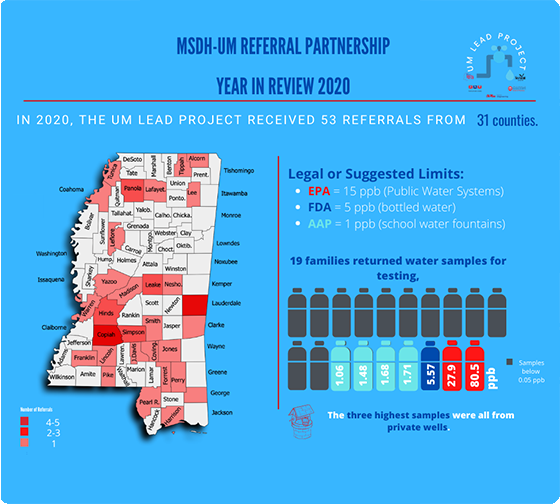 One thing all good villains have in common is that they're evasive. Hard to catch before it's too late; the bank is already empty; and the kryptonite already planted before you notice they were even there. Sometimes this feels like the case with lead. The only way to know you've been exposed is to be tested for it. Once lead exposure is identified, dust from lead paint is the most often-considered culprit. But up to 30% of elevated blood lead level (EBLL) cases in children have no immediate lead paint source, and the only way to know where the exposure originated is to test for a source.
Now imagine that the Joker only dropped in when the Gotham police force was low in numbers. Blood lead screening tests are required for all children enrolled in Medicaid in Mississippi at 12 and 24 months. However, it's estimated that more than 1.7 million Mississippi residents live in an area designated as having a Primary Care Health Professional Shortage, so testing can be hard to access. In addition, Mississippi communities face challenges with older infrastructure and small public water systems. Older infrastructure can often face corrosion control challenges and small systems aren't required to test as frequently, making lead in water harder to catch. Increasing testing is imperative to protecting Mississippi children from exposure to lead through water.
Between 2012 and 2016, the Mississippi State Department of Health (MSDH) reported that 210,720 children under 6 years were tested for lead. For some context, that's about 18% of eligible children in the state tested in that time. 1,504 of those children had elevated blood lead levels (EBLLs), and 88 qualified for an environmental home assessment. Environmental home assessments are scheduled when a child's blood level tests at or above 15 µg/dL (micrograms per deciliter). The MSDH then goes to the home to test for possible sources of lead exposure. Once the lead source is identified, low-cost solutions to mitigating exposure and risk are shared with the family to help protect the child from any further exposure and avoid health conditions, such as slowed growth and development, learning and behavior problems, and hearing and speech problems.
To help increase the services provided to families of children with EBLLs, the MSDH and the UM Lead in Drinking Water Project are currently partnering to test the drinking water of Mississippi families whose children are diagnosed with lead poisoning but don't qualify for a home assessment. The CDC recommends 5 µg/dL as a level of concern in children. Based on that recommendation, the MSDH refers families of children who test between 5 and 14.9 µg/dL to the UM Lead Project for mail-in sampling of their drinking water.
Whenever the MSDH is notified of a child with an EBLL, they reach out to the family for phone counseling. If the family doesn't qualify for a home assessment, the family is given the opportunity to participate in our water testing program. Participation is completely voluntary. Should the family elect to participate, we receive their name and address to send the sampling kit. Kits include pre-paid return postage, a sample bottle for collecting water samples, as well as instructions in English and Spanish. Returned samples are submitted to the lab for analysis and we notify the family of results. Our goal is to help these families identify whether the water is a potential source of lead in their home.
In 2020, the UM Lead Project sent 53 sample kits to Mississippi residents in 31 counties, and 19 sample kits were returned to the UM Lead Project for testing. As a quick reminder, the EPA has set a action level of 15 ppb for lead in public water supplies, but this is not a health-based standard. The FDA limits lead in our bottled water to 5 ppb, and the American Academy of Pediatrics advocates for no more than 1 ppb in school water fountains. Of the 19 samples tested by the UM Lead Project, four exceeded the AAP's standards, one exceeded the FDA's standard, and two were significantly higher than the EPA standard at approximately 28 ppb and 81 ppb. Both of the water samples that exceeded the EPA's 15 ppb standard came from private wells instead of a public water system. Families with lead concentrations over 5 ppb were provided with water filters free of charge.
Data on lead exposure from water and how it occurs is limited because environmental and health policy is primarily focused on reducing exposure to lead-based paint. The UM Lead Project's partnership with MSDH provides an important testing service to Mississippi families, and the results help identify which communities need resources the most. Additionally, this information aids government agencies and Mississippi communities in their efforts to eliminate lead exposure and protect our most vulnerable populations.
This blog post is Part 4 in a 5-part series exploring the work of the UM Lead in Drinking Water Project Team.