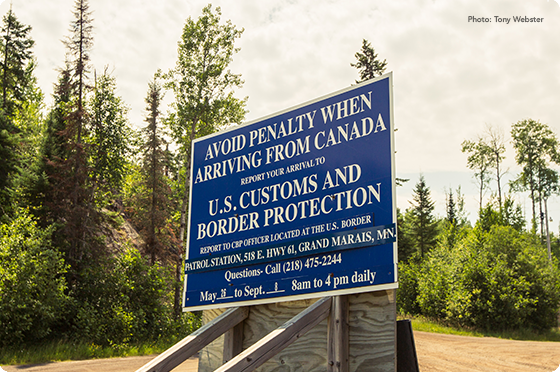 As coronavirus cases continue to increase, many countries have closed their borders to non-essential travelers by imposing travel restrictions. On July 22, the United States Customs and Border Protection (CBP) published notice that previously announced agreements among the United States, Canada, and Mexico to keep their borders closed to nonessential land and ferry crossings will extend through August 20, 2020. The travel restrictions were originally announced mid-March and were extended in April, May, June, and most recently in July. Anyone who is not a citizen or permanent resident of that country must prove one of the following: (1) they are traveling for an essential purpose; (2) they are only transiting; or (3) they are an immediate family member of a citizen or a permanent resident. Americans who are returning to the United States are exempt from the border closures.
On March 25, 2020, Canada issued the Quarantine Act, which closes the Canadian and U.S. boarder to all non-essential travel. Violators of Canada's Quarantine Act face up to 6 months in prison or up to $750,000 in fines. Furthermore, the Act states that a person who causes a risk of imminent death or harm to another person while willfully or recklessly contravening the statute could be liable for a fine up to $1,000,000 or imprisonment up to 3 years.
Royal Canadian Mounted Police (RCMP) in British Columbia have been issuing fines to U.S. boaters who violate the Quarantine Act restrictions. Boaters from the United States are not allowed within Canadian territorial or boundary waters for discretionary or non-essential travel, which includes sightseeing, pleasure fishing, and touring. On July 17, an operator of a U.S. whale watching vessel was fined $1,000 under the Quarantine Act after the RCMP discovered the vessel in Canadian waters near the San Juan Islands. The whale watching vessel was escorted back to U.S. waters. A week prior, on July 10, another U.S.-based whale watching vessel was charged under the Quarantine Act for entering Canada's waters for tourism. Around the same time, a Prince of Whales vessel from Victoria was stopped inside U.S. waters by the United Stated Coast Guard, who did not issue a fine but required the vessel to return to Canadian waters.
The whale watching tourism industry has been struggling due to the drastically reduced passenger counts from the border closure to American tourists. Canadian and U.S. travel restrictions are impacting other industries aside from tourism. The Toronto Blue Jays, the only Canadian team in Major League Baseball, have been denied approval by the Canadian government to play games in Toronto amid the pandemic. Although the city of Toronto and Ontario's provincial government had given clearance to the Blue Jays to play regular season games at their home field, Rogers Centre, the team was nevertheless denied approval by Canada's federal government. The Blue jays will play their "home" games across the border in Buffalo, New York for the rest of the season.
Travel restrictions are constantly emerging, and not just for international travel. Various states have issued travel restrictions to help contain the spread of the virus. Some states have imposed mandatory quarantine upon arrival, while others require negative COVID-19 tests to be presented in order to enter. You can read more about each states' restrictions here. In Florida, for instance, travelers and residents arriving from New York, New Jersey, and Connecticut are required to quarantine for 14 days upon arrival or for the duration of their trip. Anyone who violates this order may face a fine up to $500 or 60 days of imprisonment. Maine, having one of the country's most stringent restrictions, requires individuals arriving from almost all states to self-quarantine for 14 days unless they can provide a negative COVID-19 test result that has been taken within the last 72 hours. In comparison, South Carolina recently retracted official restrictions in May for travelers, but the state government suggests that travelers quarantine for two weeks when they arrive. Travelers this summer should consult each state and country's travel restrictions to know how to prepare to cross state or international borders, or if they can at all.