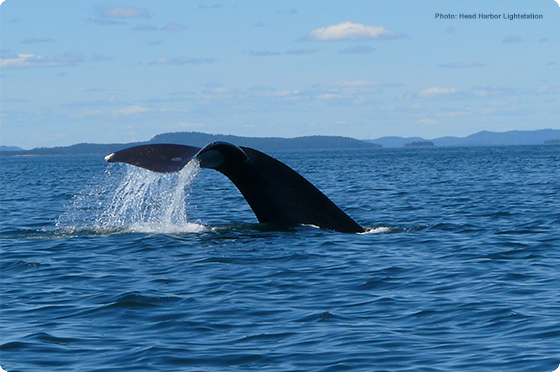 In the summer of 2019, both the state of Maine and the federal government became embroiled in a struggle between commercial fishermen and environmentalists over endangered North Atlantic right whale populations. As increasing numbers of right whales were found deceased in the waters in and around Maine, the National Oceanic and Atmospheric Administration (NOAA) began contemplating how to best protect the endangered whales. Consequently, the agency announced its plans to open a "scoping period" to solicit public comments on ways to reduce the risk of whale entanglement in gear related to trap and pot fisheries, including Maine's lobster fishery. Input received in this scoping period will inform NOAA's upcoming amendments to the Atlantic Large Whale Take Reduction Plan, which will attempt to achieve a 50% reduction in vertical lobster trap lines used in Maine waters. NOAA's actions have spurred significant pushback from numerous parties, including the recent filing of a lawsuit.
North Atlantic right whales have been listed as an endangered species under the federal Endangered Species Act since 1970, meaning that they are in danger of extinction throughout all or a significant portion of their range. The species was hunted to the brink of extinction by commercial whalers in the late 19th century, and numbered approximately 411 individuals by the end of 2017. While commercial whaling is no longer a threat, human interactions including entanglement in fishing gear and vessel strikes present the greatest current danger to the species. In 2017, there were seventeen confirmed right whale deaths—twelve in Canadian waters and five in the United States. Under the United States' federal Marine Mammal Protection Act (MMPA), right whale deaths must be lowered to 0.8% per year to ensure its continued existence as a species. Because the five recent right whale deaths rise above that percentage, NOAA must take action.
As NOAA began holding community meetings in Maine to help determine how to best protect the North Atlantic right whale while minimizing the impact to commercial lobstermen, numerous parties voiced their opinions and concerns on the matter. Some industry representatives questioned whether the gear found on deceased, ensnared whales originated from Maine lobstermen, as the gear was bigger than those fishermen typically used. Maine lobstermen willingly adopted earlier gear changes in the state required by NOAA to protect the whales, leading many to ask why the burden is again being placed on them. These fishermen argue that recent right whale fatalities show evidence that their deaths could be cause by ship strikes more so than entanglement. Additionally, they argue that evidence of the origin of the whale deaths could point to Canada, the United States' largest seafood supplier. Under the MMPA, Canada (and all other countries with fisheries interacting with marine mammals that export seafood to the United States) must demonstrate by January 1, 2022 that its whale protection rules are comparable to the United States' or else suffer trade restrictions.
Environmentalists and animal activists beg to differ with the industry representatives. Some of the largest and most powerful animal and environmental groups—including Oceana, the Natural Resources Defense Council, the Pew Charitable Trusts, the U.S. Humane Society, and the Conservation Law Foundation—sent representatives to a NOAA scoping meeting in Maine in August, urging the agency to take immediate action to protect the whales. Those activists honed in on the suffering that right whales could arguably experience before dying from entanglement and called for actions such as limiting the use of high-impact fishing gear in waters where right whales are known to congregate and temporarily closing areas where right whales are spotted until they depart.
One such activist took his grievances a step further on September 5, when he filed a lawsuit against the federal government and the state of Maine in federal district court in an effort to end the use of vertical ropes by state lobstermen altogether. The lawsuit calls for a temporary restraining order that would end the practice of using vertical ropes to haul lobster traps, in an effort to force lobstermen to innovate other hauling methods that do not pose a risk of entangling whales and other species, such as green sea turtles. Meanwhile, NOAA has asked a judge to put a hold on a suit brought by the Conservation Law Foundation and other environmental plaintiffs in May 2018 pending the outcome of its rulemaking in Maine.
For now, the answer to bolstering declining North Atlantic right whale populations in and around Maine waters is uncertain. In August, the Maine Department of Marine Resources posted a notice indicating that its planned meetings with state lobstermen to discuss NOAA's pending federal regulations had been postponed indefinitely. According to a press release by the department, the decision was made in order to "ensure that [they could] develop a proposal for submission to [NOAA] that reflects a thorough review of all data." At the same time, critics of NOAA's pending action continue to point to whale deaths that have occurred in Canada's Gulf of St. Lawrence as a justification against further regulation of the state's lobster fishery. As more and more endangered North Atlantic right whales die every year—with two percent of the world's total population perishing in just June and July of this year—a solution will have to found soon, lest the species be left without enough individuals to sustain a viable breeding population in the future.