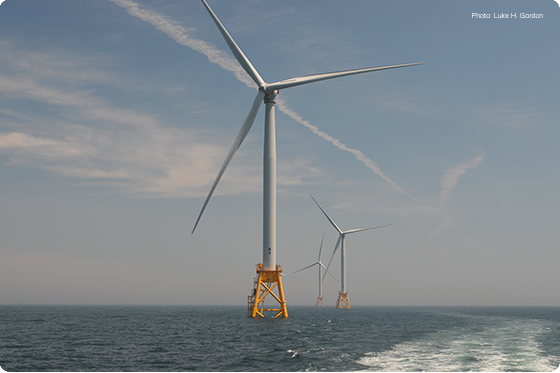 The offshore wind energy industry on the Outer Continental Shelf (OCS) adjacent to the New England and Mid-Atlantic regions is on the verge of dramatic expansion. Currently, a single wind farm consisting of five turbines located three miles southeast of Block Island, Rhode Island is the only operational wind farm on the United States Atlantic coast. The federal government has awarded fifteen active seafloor leases along the Atlantic coast between Massachusetts and North Carolina, which collectively open up nearly 1.7 million acres of the OCS for offshore wind development. A recent memorandum of understanding (MOU) between the Bureau of Ocean Energy Management (BOEM), the National Oceanographic and Atmospheric Administration (NOAA), and the Responsible Offshore Development Alliance (RODA) will integrate commercial fishing industry expertise into offshore wind planning, site selection, and development. On March 25th, the three parties executed a ten-year MOU in which they acknowledged that commercial fishing industry expertise should be leveraged to improve coordination between fisheries management and offshore wind energy development.
Each of the signatory parties to the MOU have substantial interests in the OCS. BOEM is the bureau within the Department of the Interior with authority to grant leases and rights of way on the OCS for renewable energy production and transmission. NOAA is the federal agency with primary statutory and regulatory authority over living marine resources, including the management of marine fisheries and conservation or restoration of important marine habitats. NOAA's National Marine Fisheries Service (NMFS) strategic goals include maximizing fishing opportunities while ensuring sustainability of fisheries and fishing communities and recovering and conserving protected species while supporting responsible fishing and resource development. RODA is a coalition of fishing industry associations and commercial fishers, and is open to all entities with a direct interest in commercial fishing. According to RODA, commercial fishers seek to bring their fisheries knowledge to bear on collaborative research and monitoring projects, improve overall understanding of new offshore activities, provide input to support mitigation and minimization of impacts to users and resources, and to help inform agency decision making.
While the MOU does not impose any specific monetary or performance obligations on the three signatory parties, it formalizes the parties' commitment to collaborate on issues of mutual interest. BOEM acting director Dr. Walter Cruickshank stated that the MOU underscores BOEM's commitment to consider local and regional fishing interests. He further invited stakeholders to meet with BOEM to discuss more effective means of engagement. RODA will use the MOU to ensure that local and regional fishing interests are involved early and often throughout offshore wind development processes. On June 11, NOAA's Northeast Fisheries Science Center's Cooperative Research Branch published a schedule for a series of stakeholder engagement sessions at locations ranging from Portland, Maine to Hampton, Virginia, with a stated goal of cultivating meaningful partnerships to support effective research programs.
As offshore wind development on the OCS has gathered momentum, members of the commercial fishing industry have become concerned that wind energy turbine siting and development choices will proceed without thorough scientific examination of their economic and environmental impacts. The potential benefits of the planned wind farms are substantial; collectively, the current active leases could generate enough electricity to power more than 6.5 million homes. A single project, Vinyard Wind, slated to begin construction this year, will occupy a 160,000 acre site 14 miles south of Martha's Vinyard, Massachusetts, and the developer projects that it will reduce carbon emissions by 1.6 million tons per year. However, the centuries-old commercial fishing industry also comprises an important, established component of the region's economy and social history. NOAA Fisheries manages more than 42 species under 18 fishery management plans in the New England and Mid-Atlantic regions. In 2016, approximately 4,600 commercial fishing vessels landed more than 1 billion pounds of key commercial fish species, and supported approximately 140,000 seafood jobs. Beyond commercial considerations, the region provides vital habitat for the critically endangered North Atlantic right whale, and careful research to determine appropriate protective measures and impact mitigation is crucial to ensure their survival for future generations. The collaboration between BOEM, RODA, and NOAA formalized in the MOU will encourage practices that will maximize compatibility between offshore wind and other ocean and seafloor uses, and improve research and monitoring to accurately quantify the environmental, economic, and social impacts of offshore wind development.